The Tri-Village girls golf team has won league titles in the first two years of the WOAC and return two key junior golfers in Reagan Brewer and Taylor Begoon.  Brewer was the top golfer in the conference last year and Taylor was 3rd.  The Patriots lost Alyssa Begoon who was 2nd in the league along with Sage Waters who was 6th in the league and lost Ashlynn Fleagle as well.
While they return two big time players the loss of two top 10 players in the league leaves them looking for help.
After taking a year off senior Bella Black returns to the team along with senior Haylee Potter.  Rounding out the team are two more juniors Macey Shelter and Madison Preston who steps into a bigger role this year.
Tri-Village has battled the last two season with Arcanum and the Trojans return a lot of talent and they would defeat TV handily on August 29th shooting 196 to 234 at Beechwood Golf Course.
Arcanum currently is undefeated at 5-0 and sits atop of the conference at 4-0 with the Patriots just behind at 3-1.
Tri-Village won Thursday night defeating Ansonia 211 – 266.
Reagan Brewer was the medalist with a 48, Taylor Begoon 50, Bella Black 53, Madison Preston 60, Macey Shetler 67 and Haylee Potter 72.
The Tigers were led by Makayla Stachler with a 56, Zoey Elson 66, Sophia Aultman 68 and Macy Sink 76.
Not only did Tri-Village lose some talented golfers they also saw coach Roy Lowry who was the league coach of the year the last two seasons step down.
Stepping forward was Tri-Village High School Principal Lee Morris to lead the charge.
"It's been a learning experience for the kids this year but they've kind of adapted to my coaching style, which is, Golf is a game, you can practice it just like you practice football, like you practice basketball, like you practice softball, you can get better at little things. So, we've spent a healthy amount of time on putting green and chipping and putting, scoring is done around the green. And you know, we've not neglected the driving range, either" Morris stated.
"We have really two returning varsity contributors Reagan and Taylor both pretty good golfers, they've got a lot of experience playing so they're both coming back as juniors, then Bella Black obviously returning after  a one-year hiatus … but the rest of our kids don't have any varsity experience, so we are trying to find that fourth place score and consistent play.  Last year Madison Preston played on JV and when I told her she was going to be in the 4th spot on the team she was a little surprised and her response was I never played varsity matches last year.  Okay, well, this year you're going to play every match and she's stepping up," Morris praised.
"Currently we are 3-1 losing to Arcanum the other night. We've played in a couple invitationals and was second over in Richmond 8th up at Versailles against a pretty field," Morris, commented.
Morris isn't new to coaching golf, but the rules of coaching has changed since he last coached.
"This has been a big change since my previous golf coaching stint, you weren't allowed to coach kids until the completion of a green and only until the next tee started.  Now we can walk around and so I found myself on my feet, as opposed to in the cart trying to be a more active participant and that's been good, you know, it gives you a chance to give thoughts and help with course management ideas," Morris said.
With junior Reagan Brewer playing with high aspirations Morris likes the fact that he can work with her closely as well.
"You know we've talked quite a bit about course Management ideas, learning to play shots to certain distances and leave putts below holes so that we're not going uphill, and she's been very receptive Ito my style of coaching right now and I appreciate that," Morris remarked.
Ansonia came up short in the dual match and is 1-3 overall and 0-2 in the conference.
For the Tigers coach Margaret Middleton her goals are a bit different as she has just four players on the team: two seniors Macy Sink, Makayla Stachler and two juniors Sophia Aultman and Zoey Elson.
"These four girls are having fun. I have really encouraged that its not necessarily always about the score as much as it is about coming out learning the game and how to play the sport while having fun," Middleton stated.
"Makayla Stachler who has played 4 years now is playing very well and then I have another senior Macy Sink that just started last year and is starting to hit the ball better and turning around her season thus far.  I have two juniors; Zoey Elson is in her 2nd year and Sophia Aultman is out for just the first time and is doing awesome.  I really wish I would have both of them for multiple years.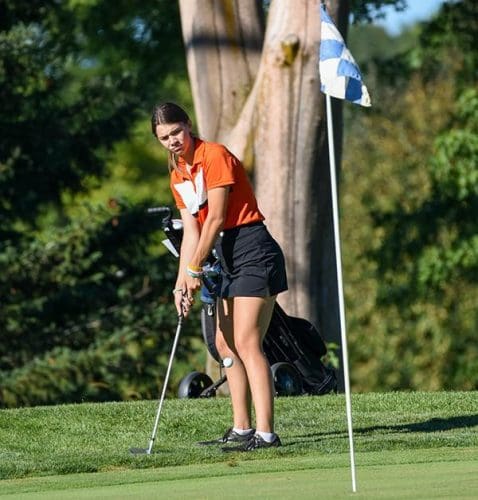 "Overall, I believe they're playing well and they're having fun. That's the main thing," Middleton concluded.