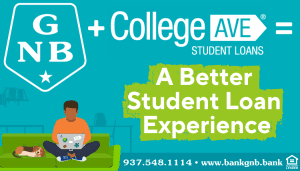 ARCANUM – The Arcanum Lady Trojans downed the Ansonia Lady Tigers 3-1 in a Thursday night WOAC volleyball match.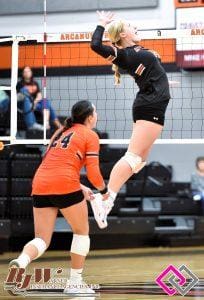 The visiting Lady Tigers bolted out to a double digit 13-3 first set lead on their way to a surprising lopsided 25-8 win to lead 1-0 on the night.
"I have to give Ansonia credit," said Arcanum coach, Jacie Holman. "They came out and I knew they were going to come firing today after this weekend. I knew they were a challenging team and they showed that all throughout the night. They're serves were on point and our passers couldn't get a pass and our hitters couldn't find the court so kudos to them."
Following the first set loss, Coach Holman took her team to the Arcanum locker room for a seldom used off-court "chat" during the three minute break between sets.
"My girls know when they go to the locker room it's probably not the best thing for them but that's what they needed," Holman stated. "They needed to hear that was not our game and we're going to pick it up. I'm proud they came out and showed what Arcanum volleyball is."
Set No. 2 had the teams opening tied at 3-3 before the home standing Lady Trojans took control getting their first double digit lead of the night with a 16-6 score and close out the second set with a 25-12 win knotting the match at 1-1.
"That's what we expect out of Arcanum volleyball – some quick moving volleyball and some runs back there from our servers," Coach Holman said of the Lady Trojans quick set two turnaround. "They did a wonderful job to get those passers out of transition for Ansonia."
"I think we got comfortable in the second set and that showed," said Ansonia coach, Lydia Schlarman.   "Our energy was definitely down in that second set. I told the girls if you want to win you have to come out with energy and I think their energy just outplayed us ultimately."
The third set mirrored the second opening with a 3-3 tie only to have Arcanum use an 11-3 scoring run to lead 14-6 bringing a timeout from the Ansonia bench. The Lady Trojans went on to outscore the visitors 14-9 taking set No. 2 also by a 25-12 score and take a 2-1 lead.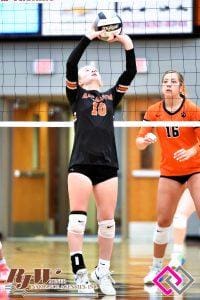 Set No. 3 as well started with the score tied at 3-3 but like the second and third sets, Arcanum took control and soon led 12-7 and 22-14 before the Lady Tigers made a short scoring run to make it a four point 23-19 Arcanum lead bringing a timeout from the Lady Trojans bench. Arcanum would score the final two points of the night to take the fourth set 25-19 to claim the conference win.
"I loved my team last year but my team last year would have given up after that first set," Coach Holman said following the win. "These seniors took it and ran with it tonight. They were not going to accept a loss so they came back fighting and it's not just through actions on the court, they're pumping each other up on the bench, they're doing everything I need for them to do."
"Arcanum has a really good set of girls but I think our girls can play just as much up to their ability as theirs," Coach Schlarman stated. "The upcoming season and the games we have coming up we can learn from this and just make ourselves better."
With the win Arcanum improves to 5-0 overall and 2-0 in league action. Ansonia drops to 2-3 overall and 1-1 in conference play.