GREENVILLE—Last month the Greenville Art Guild held a professional mixed media workshop. The workshop was lead by Robie Benve, a professional artist from Columbus, OH and Art Coordinator at The Ohio State University.
Benve, originally from Italy, shared her unique art making techniques with students. After learning that she was allergic to oil paints, Benve was forced to find new materials for her artistic expression. It was this discovery that led her to take a meditative paper cutting class at the Columbus Cultural Arts Center.
This inspired her to create intricate paper stencils to make patterns in her otherwise realistic acrylic paintings.
Students each received a material kit for the class and were encouraged to create patterns using Benve's hand cut stencils. Torn paper was also incorporated to add texture to the paintings.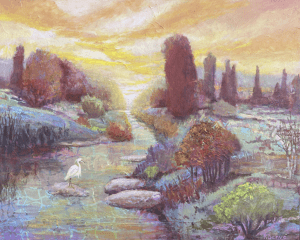 The Greenville Art Guild would like to thank all their supporters throughout the year who helped make this workshop possible and allowing our own local artists to develop and advance their skills.
Membership in the Greenville Art Guild is open to anyone with an interest in art in Darke and surrounding counties. The annual fee for membership is $20.00 for adults and $15.00 for senior citizens. Benefits to joining the group include access to group activities, discounted workshops and show entry fees, and most importantly a circle of artistic friends.
Anyone interested in joining the Greenville Art Guild can mail their entry fee to PO Box 172, Greenville, OH 45331 and include your name, address, phone number, and email address.
For more information, contact Jennifer Overholser, Greenville Art Guild President at Overholser.art@gmail.com. Be sure to like Greenville Art Guild on Facebook for information on upcoming events.