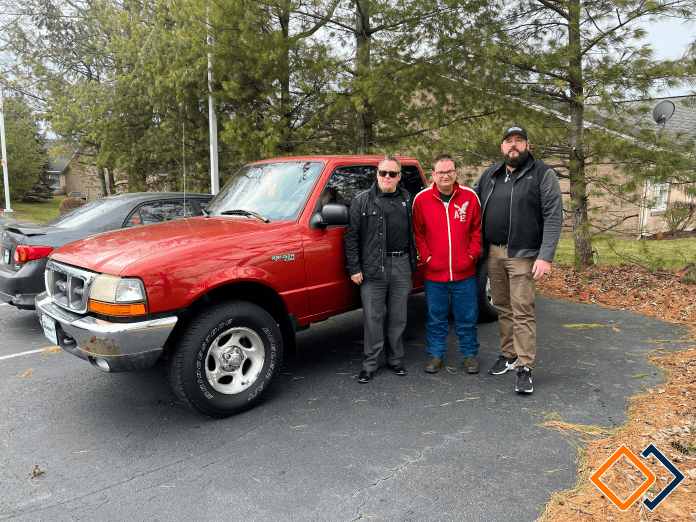 GREENVILLE—When David Condon stopped into Dave Knapp Ford Lincoln randomly about three years ago looking to use their restroom, no one could've predicted he'd soon be a part of their dealership family.
But, he came back. Almost every day.
"From the first day he came in, we could tell that this place meant something to him," Stevie Sandifar, General Sales Manager said. "Just that he could be here."
Condon, 30, of Greenville, loves anything with a motor.
"He's always tinkering with his lawnmower, and is very hands-on," Sue Huston, Darke County Developmental Disabilities Community Connects & Advocacy Coordinator said. "I think the fact you guys received him, and allowed him to come back. We always say, 'When people can connect based on their interests, then disabilities, or differences kind of go away.'"
As time went on, he not only became close with all the employees, but with some mentoring from Sandifar and his fellow employees, he also grew as a person too.
"I've never not given him tough love since the day he came in here too," Sandifar said. "We've always had that relationship, and it's really worked."
Condon said he likes the tough love he receives at the dealership.
"When someone gives you tough love, it means they really love you," Huston said.
In addition to helping Condon better understand manners and etiquette, the crew at Dave Knapp also set him up with other resources in which he could be successful.
A lifelong car-enthusiast, Condon, has of course always wanted to get his driver's permit. One of the first goals the guys helped him with was passing his permit test.
He walked in one day with a driver's training book determined to learn how to read so he could pass the test.
"You don't want to tell him he can't accomplish something," Sandifar said. "If he says he's going to accomplish something, he's going to do it. He wanted to get through his driver's training, but reading was an issue. He brought that book in, and me and Travis [Sales Manager Travis Dixon] got him hooked up with the county home. They got him hooked up with a program that didn't cost anything. Travis took him every Monday. Sure enough, he learned it all, and he walked in here and said, 'Guess what I got today.'"
They've also hooked Condon up with employment opportunities as well.
"When he started coming, he didn't have any jobs," Dixon said. "The guy that owns El Carreton, Ricardo, is good friends with Stevie, and he's given David a job."
Since getting his job at El Carreton, Condon recently got a second job at Buffalo Wild Wings.
Although not an actual employee at Dave Knapp, he still comes in about every other day and hangs out. Often Condon will go out and assist in checking that all of the cars are locked up as well.
Sandifar said Condon's friendship has helped all the employees out in what's recently been a demanding industry.
"This industry is pretty stressful," Sandifar said. "A lot of people don't see it from the outside looking in. You wouldn't believe how many days we've been having rough, stressful days. Especially going through COVID, and the inventory shortages. He walks in through the door, and it's the same thing every time he walks through the door, he goes, 'RAWRRR!' And everything just, I don't want leave God out of this because we just feel that God made this match for us. There was never any doubt."
Santa even visits Dave Knapp and leaves gifts for Condon.
Most recently, Santa dropped off a 1999 Ford Ranger that's waiting for him when he passes his driving test.
"It's only got 90,000 miles on it," Sandifar said. "We're fixing it up, and doing little things to it every week too. Just to make sure that it's perfect."
He was also given car accessories for the holiday, like car mats, a steering wheel cover, and more.
Condon is currently logging hours with a driving instructor, and plans to take the test next month.
In the mean time, Sandifar said he's going to start taking him out before the test.
"I've got a farm in Winchester," Sandifar said. "So we're going to go out and start practicing."
Up next after he inevitably passes his driver's test? His commercial driver's license.
"That's his dream," Dixon said. "Get his CDL, and drive a big rig."
"I won't doubt him," Sandifar assured.
For information on Darke County Developmental Disabilities, go to their Facebook Page, site or contact Darke County DD Community Connects & Advocacy Coordinator Sue Huston at sueh@darkedd.org.