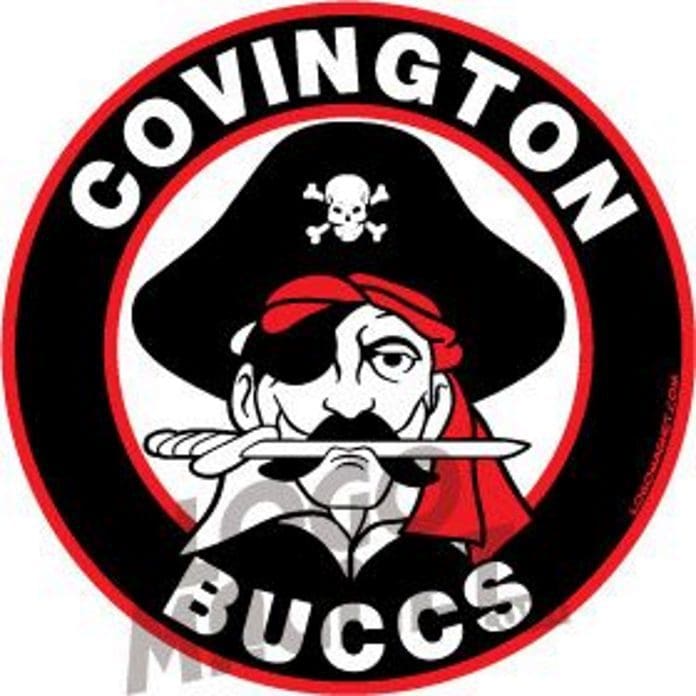 PIQUA – Covington travelled to Piqua on Wednesday night for an exciting dual against the host Indians at the historic Roosevelt Fieldhouse.  The Buccs and Indians put on an entertaining display as both teams maneuvered their line-ups to give them each advantages, but in the end it was Covington coming away with a 45-34 victory.
Mason Epperson (157) got things started for the Buccs with a pin over Elijah Watkins. That and a forfeit received by Aaron Jackson (165) gave Covington a 12-0 lead.  Piqua came storming back to take a 21-12 lead with an 8-7 back-and-forth victory by Connor Glenn over Aiden Collins (175), and consecutive pins by Bracket Osborne over A.J. Garman (190), Landen Martin over Zeb Woodward-Roeth (215) and Hayden Barker over A.J. Reyes (285).
The teams then split the next two matches as Covington's Carson Taylor (106) pinned Averi Wiley, and Piqua's Logan Wells pinned Brian Morrison (113).  Piqua led at this point, 27-18.
Covington took back the lead, 36-27, with a 12-4 major decision by Michael Hagan (120) over Nikolai Kaye, a pin by Jericho Quinter (126) over Brady Mikolajewski, and a pin by Chase Vanderhorst (132) over Gavin Nelson, before Piqua cut the Buccs' lead, 36-34, with a Max Kaye pin over Tyler Basye (138).
Caleb Ryman (144) and Aveyen Meek (150) then sealed the victory for the Buccs with consecutive victories over Jackson Lambert by pin, and James Hess by 20-4 technical fall.
In JV action, Piqua's Alex Holt won by pin over Lane Jay (138), before later losing by pin to Covington's Elijah Carnes (144).
The Jr. High teams battled to an equally close dual, as Covington defeated Piqua, 48-42.  Winning by pin for Covington were Brody Taylor (80), Isaiah Mumford (92), Jonny Miller (104), Liam Geeding (110), Henry Skaggs (116), Landon Beeman (128), Trent Reynolds (134) and Lucas Lester (160).  Winning by pin for Piqua were Seth Holt (122) and Carter (142).  Piqua also picked up forfeits at 150, 172, 205 and 245 lbs., but names were not available.