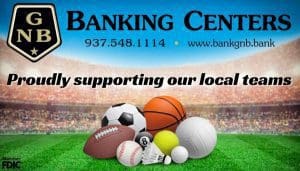 VERSAILLES – The Preble Shawnee Lady Arrows traveled to Versailles with a 12-4 season mark and a perfect 8-0 record in the Western Ohio Athletic Conference (WOAC) while the Lady Tigers entered the night with an 8-8 season record and a 3-4 MAC mark. The game played out as expected with Versailles pulling out a 51-49 win.
"We made it as interesting as we could have been but getting the 'W' is a big win," said Versailles coach, Tracy White. "They are a really good team so to get the job done is huge for us. It's a good four quarter win for our girls."
Versailles took the floor to face the Lady Arrows with the memory of Preble Shawnee knocking them out of the 2021-22 DIII OHSAA basketball tournament.
"It feels good to do it for her," Coach White said of Lexi Magoto. "She felt it last year when they knocked us out of the tournament. I think she came in with avengeance that she was going to prove a point."
Preble Shawnee took a 14-10 lead after one quarter of play with Harlee Howard pacing the Lady Arrows with 6-points including a 3-pointer.
The Lady Tigers battle back to knot the score at 14-14 with 4:25 on the second quarter clock and take the quarter by a 15-7 score to lead 25-21 at the break.
"We flat out locked down defense," White noted.  "Everybody was focused, the rotations were there. Preble Shawnee thrives on the drive and dish to their blocks. Our girls were getting there, forcing some shots on the outside and contesting those and then getting every rebound that we possibly could."
Versailles extended its lead to 9-points, 32-23 at the 4:38 third quarter mark only to have the visiting Lady Arrows use a 11-2 scoring run to tie the score at 34-34 early in the fourth quarter with 7:05 on the clock.
Preble Shawnee extended its lead to 4-points, 46-42 with 3:24 remaining in the game. Jenna Dirksen nailed her second triple of the night to pull the Lady Tigers within one with 3:02 on the game clock and trail 46-45. Over the final minutes of play Jenna Dirksen accounted for two baskets and Cassie Leach closed out Lady Tigers scoring going 2-2 at the line to give Versailles the non-conference win.
"Jenna came up big when we needed it," said White. "She is always right there communicating to her teammates, doing all the things she needs to do."
"Cassie does a lot of things people might not notice and she does the little things that aren't necessarily in the stat column but she does things to impact the game," Coach White said. "She is our most consistent free throw shooter on the team. She is solid all the way around."
Olivia Thompson led Preble Shawnee and all scorers with a game high 18-points. Harlee Howard (14-points) and Autumn Smith (11-points) also got double figures for the Lady Arrows.
Versailles got balanced scoring with three Lady Tigers hitting for double figures; Lexi Magoto 12-points and Jenna Dirksen and Allison Schwartz each with 10-points.
BOXSCORE:
VERSAILLES 51, PREBLE SHAWNEE 49
VERSAILLES – Lexi Mago 12, Jenna Dirksen 10, Allison Schwartz 10, Taylor Wagner 9, Cassie Leach 7, G. Osborn 3 – TOTALS 12 12-18 5 51
PREBLE SHAWNEE – O. Thompson 18, H. Howard 14, A. Smith 11, B Agee 4, K. Woodard 2 – TOTALS 14 15-21 2 49
3-POINTERS
Versailles 5 (J. Dirksen 2, L. Magoto 2, G. Osborn 1)
Preble Shawnee 2 (H. Howard 1, A. Smith 1)
SCORE by QUARTERS
10-15-09-17 51 Versailles
14-07-12-16 49 Preble Shawnee