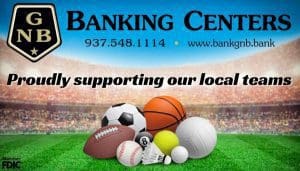 NEW MADISON – The state's No. 1 ranked OHSAA DIV Tri-Village Lady Patriots made a strong statement defeating Indiana's No. 2 Class 2A 17-1 state ranked Blackford Lady Bruins 60-42 in non-conference action.
Tri-Village was coming off road wins over the 13-4 DI Sidney Yellow Jackets, 12-2 Toledo Christian Lady Eagles and with the Wednesday night win over Blackford now stand at 17-0 on the season
"It's good to have games like this because this is where we see where our weaknesses are," said veteran Tri-Village coach, Brad Gray. "Sometimes it's hard to find those and when you're playing against these quality opponents that we have been playing lately it definitely exposes some things that we have to get better with."
Tri-Village jumped out to a 12-7 first quarter lead in the opening three minutes bringing a timeout from the Blackford bench. The Lady Patriots made it an 8-point lead after one period with Morgan Hunt burning the nets for 12-points including a 3-pointer to pace Tri-Village.
"I thought it was a pretty physical game both ways," Gray said. "The referees let us play a little bit – both team play a little bit."
The Lady Patriots pushed its lead to 20-points with time winding down in the first half only to have to Lady Bruins swish a 3-pointer from downtown with no time remaining sending the teams to the break with Tri-Village holding a 38-21 advantage. Rylee Sagester led the Lady Patriots with nine second quarter points including her second triple of the night.
"I liked how we played offensively early then they made some defensive adjustments," Gray noted. "I thought our defense settled in about halfway through the first quarter."
Period No. 3 had both teams struggling to put points on the board with the Hartford City, IN guests taking the quarter by a 9-8 count giving the Lady Patriots a 46-30 lead with one quarter to play.
"We turned it over there a little bit in the second half," said Gray. "Kind of let them get back into it a little."
Tri-Village was 2-points better in the fourth taking the period 14-12 to earn the game played before a large crowd under tournament atmosphere conditions.
"Morgan (Hunt) did a great job," Coach Gray stated. "She's getting that mentality back…I want the ball in the post and when I get it there I'm going to go get the end result that we need. Early in the game she was certainly one that was carrying us and then as they made some defensive adjustments they kind of left Rylee (Sagester) floating around on the perimeter by herself. She was able to knock down the looks she got and also get some nice rim attacks once they tried to close out on her."
Rylee Sagester led Tri-Village and all scorers with a game high 25-points including five 3-pointers. Morgan Hunt knocked down 22-points including a triple.
BOXSCORE:
TRI-VILLAGE 60, BLACKFORD 42
TRI-VILLAGE – R. Sagester 25, M. Hunt 22, T. Richards 6, S. Delong 3, B. Black 2, K. Hager 2 – TOTALS 14 11-16 7 60
BLACKFORD – O. Leas 13, S. Morris 10, L. Waters 6, B. Stroble 6, C. Wicker 2, B. McClain 2, F. Gephart 2, S. Morris 1 – TOTALS 15 6-8 2 42
3-POINTERS
Tri-Village 7 (R. Sagester 5, S. Delong 1, M. Hunt 1)
Blackford 2 (O. Leas 2)
SCORE by QUARTERS
22-16-08-14 60 Tri-Village
14-07-09-12 42 Blackford