SPRINGFIELD – The Versailles Lady Tigers ground out a 45-41 OHSAA DIII Regional semi-final comeback win over the East Clinton Lady Astros after trailing nearly the entire game.
"Kudos to our girls," said Versailles coach, Tracy White following the game. "They just executed and they got the job done which is huge at this point at this stage in the game."
"They have exceeded everything I can imagine," White added. "Every coaching point that is brought to them they accept it, they accept their roles and that's the only way we get to where we're at today."
Versailles took an early 4-0 lead to open play only to have the East Clinton use an 13-2 run to lead 13-6 with one quarter in the book.
"That's a senior laden team and they are a good team," noted Coach White. "They're great shooters, we talked about they're going to knock down their shots."
The Lady Tigers defense kept the team in the low scoring game as Versailles would struggle to find its shooting range missing all seven first half 3-pointers while going 3-6 at the line. Versailles took advantage of 6 Jenna Dirksen second quarter points taking the second 11-7 to trail the Lady Astros 20-17 at the break.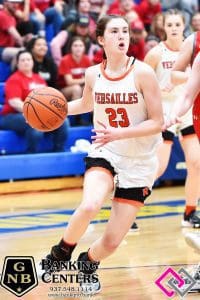 "Our shooting has not been great especially our 3-point shooting," Coach White stated. "We have not shot the ball well but it doesn't matter when you lock down on defense. That gives you the freedom to not have to knock down those shots. When you play defense like we play it allows you a little bit more flexibility within your shooting."
Period No. 3 had East Clinton 1-point better by a 10-9 score to lead Versailles 30-26 with one quarter to play.
"The girls just overcame a lot and they just kept battling back and it felt like once we got close, we couldn't hit some shots and then we would let them get a lead again and just keep working ourselves out of the hole," said White, "but to get the job done when that happens says a lot about our girls."
Versailles managed to knot the score at 34-34 with 5:27 on the fourth quarter board and take its first lead since the opening minutes of the game at 35-34 with 5:18 showing. The teams played to a 37-37 score before Grace Osborne would enter the game for the first time of the night to sink back-to-back free throws to secure the Versailles win.
"Grace hurt her foot a few games ago and I feel like she's working back but there are just certain movements that she is still slow with but she is one of our strongest free throw shooters," White said.   "Something in my gut told me Grace can go make these free throws and as a sophomore it's huge for her to do that."
The Tigers 6'1" sophomore Taylor Wagner went to work in the post to score all 10 of her points in the final period of the game.
"They had her number," Coach White said of Wagner. "They were doubling her every single time she made a cut across the lane, they were not going to let her get those points and I felt like once we kept grinding and pushing there in the second half they got tired and we took advantage of that."
Versailles 6'0" junior Allison Schwartz had a double-double for the Lady Tigers bringing praise from Coach White for her play.
"She goes and gets the ball," White said. "Her rebounding skills are just phenomenal. She's athletic, she can jump."
"Every single girl on this team stepped up big today whether they were on the court or on the bench," stated White. "They were talking, they were communicating – it's a huge team win."
BOXSCORE:
VERSAILLES 45, EAST CLINTON 41
VERSAILLES – J. Dirksen 11, T. Wagner 10, A. Schwartz 10, K. Litten 6, C. Leach 4, S. Stammen 2, G. Osborne 2 – TOTALS 15 15-24 45
EAST CLINTON – J. Collom 14, J. Murphy 13, E. Evanshine 10, J. Jones 1, L. Stonewall 1 – TOTALS 5 10-20 7 41
3-POINTERS
Versailles 0
East Clinton 7 (J. Collom 3, J. Murphy 3, L. Evanshine 1)
SCORE by QUARTERS
06-11-09-19 45 Versailles
13-07-10-11 41 East Clinton