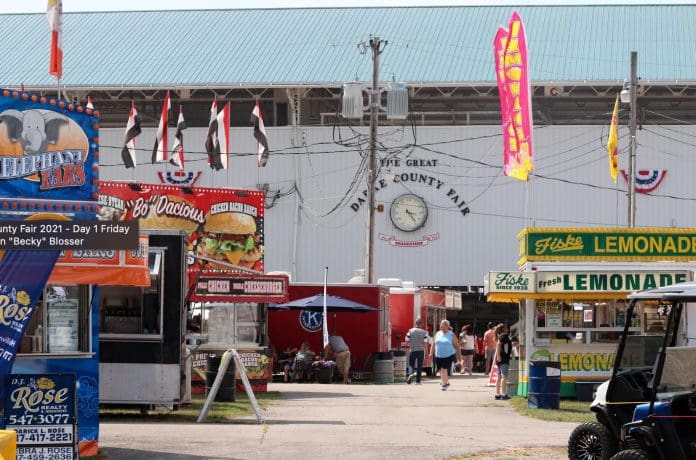 GREENVILLE—The Darke County Agricultural Society Board of Directors met on Wednesday evening to discuss fair tickets and the fair caretaker. All 11 directors were present.
During public comment, the board heard from a citizen regarding the free fair passes awarded to couples that celebrate their 50th wedding anniversary.
She told the board that she was circling back on a concern you expressed at the October 2022 meeting.
"I know the fair is coming," she said. "I've heard some of my friends say that this concerns the pass you give to people when you're married for 50 years. The same people, I know several couples who get to that plateau this year, they enter things in the fine arts building, and you still have to buy a $25 ticket to enter that."
The resident added that in October, the board mentioned they were considering a $5 pass for those with free passes that didn't purchase the voting ticket.
"The people that I know will celebrate their 50th anniversary enter quite a few things," she said. "Maybe 10 to 15 items a piece. They've already told me that they won't enter if they get the free pass."
After some discussion amongst themselves, Board President Greg Pearson said that as of March, there was no change with fair passes.
"They want to keep entering," she said. "I enter things in that area just so it's full. But, I wouldn't do it if I were married 50 years and got the free pass. Can't you come up with a $5 pass for them so they can enter?"
The board moved on, and Fair Manager Laura Ahrens told the board that Barry Boyard has recently resigned as head caretaker. She added that Rex Weyrick, of Greenville, was hired to fill his position.
"He's been very busy evaluating the buildings, grounds and equipment," Ahrens said. "He's come up with a long list of things to keep them all busy."
Some of the things he's working on include: repairing bleachers, the horseshoe pits and the restrooms.
"Him and Nate have been going through the restrooms," she said. "They've been getting ready to open those up. They walked into the rabbit restroom today, and the urinal is off of the wall. The other one, the wood behind it is rotted and they went ahead and took it off the wall."
Ahrens added that ACME Plumbing advised that they start replacing all toilets on the grounds in stages.
"They're old, outdated, and it's hard to get parts for them," she said.
Next, during director's reports, Director Brian Rismiller told the board he's hoping to work on fair sponsorships soon.
"It's something I had worked on several years ago," he said. "At one time we were talking about daily sponsors, where we would have a sign up at every gate, and the sponsor would get recognized during that day's announcement."
After some discussion, the board agreed that sponsorships were an untapped revenue stream.
Rismiller and Director Holly May agreed to start moving forward with working on them.
The Darke County Fair Board meets the first Wednesday of every month at 7:30 p.m. at 800 Sweitzer St., Greenville, Ohio, 45331, in the meeting room across from the fair office. For more information, contact the fair office at 937-548-5044.