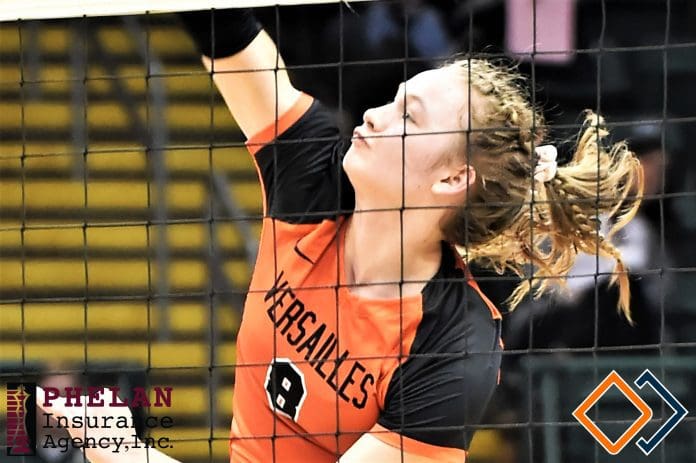 DAYTON – The Versailles Lady Tigers dropped a 3-1 D-III State semi-final volleyball match to the state's No. 1 ranked Mentor Lake Catholic Lady Cougars.
"It's been fun, it's been a huge ride," Versailles coach, Liz McNeilan said. "We've enjoyed every minute of it."
The Lady Cougars lineup included three 6'0", two 5'11" and two 5'10" skilled players taking to the Wright State University court.
Versailles took the opening set 25-23 before Lake Catholic bounced back to take the second set 25-16 to even the match at a game apiece.
"We knew we had to come in with a strong mentality," McNeilan stated. "I thought we held it together pretty well but they did a great job of serving effectively and serving aggressively to keep us out of system."
The Lady Cougars closed out the match with back to back 25-17 wins bringing a successful 2022 Lady Tigers volleyball season to a close.
"I thought our girls did a great job of fighting back even in that last game," said McNeilan. "Our coaches were in it the entire time, our coaches have done a fabulous job. They have been behind these girls the entire time. You look at the coaches, the girls, the community, you look at our student section, that was huge – a lot of pride."
Seniors playing their final game for the Lady Tigers volleyball program: Hailey Porter, Kirsten Bomholt, Lexi Magoto, Tessa Stammen, Brynn Briscoe and Taylor Grilliot.
"Kudos to our senior leadership," Coach McNeilan said. "We had our peaks and we had our valleys but they had each other's backs at all times."