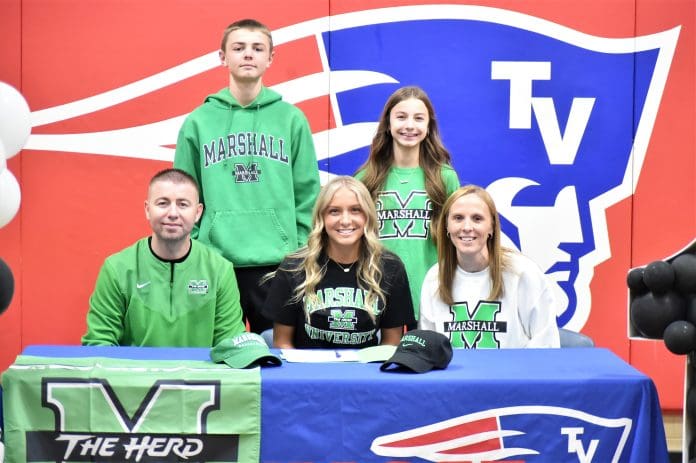 NEW MADISON – Tri-Village Lady Patriots' senior, Rylee Sagester has signed to compete at the next level for the NCAA Division I Marshall University Thundering Herd women's basketball program.
"It's a lot of hard work that has paid off," Sagester stated. "Sacrifice and teammates have put me in really good positions to be successful. I'm really thankful – it's exciting."
Sagester, the daughter of Traci and Josh Sagester plans to study Broadcast Journalism with an emphasis on sports.  The long-range shooting specialist returns for her senior high school season as the reigning Western Ohio Athletic Conference (WOAC) Athlete of the Year and All-WOAC First Team.
"It seems like home for me," said Sagester of her choice. "I knew right away when I went there that I wanted to be a part of the family. Everybody from the coaches down to the facilities are great. I thought it was a good fit for me."
Sagester is less than 80 3-pointers away from becoming Ohio's all-time leading 3-point shooter with a senior season ahead.
"Hopefully with a good year she can go out and get that thing," Gray said. "We're going to give her every opportunity to try to get there."
"She has a special skill set – obviously a very skilled player and the special ability to shoot the ball from not just distance but from long distance," added Gray. "She really has extended range. Because of that special skill set, the work ethic that she's had to develop, she's getting a great opportunity to go play at the Division I level and I think she is going to flourish."
Coach Gray is always pleased when a Tri-Village athlete's attitude and coachability results in taking their sport to the next level while continuing their education.
"She's been great to coach," he stated. "She's a coach's kid, very high basketball IQ, it's like having another coach on the floor. She brings some good insight to our huddles about things she's seen out on the floor."
"She's lived the game of basketball from the time she was in diapers," Coach Gray continued. "She's a good teammate. She's an easy kid to coach, really wants to do things the right way, really wants to please not just the coach but her teammates and she has really grown in those areas too as her high school career has gone on."
Coach Gray gives parents and the community high marks for the success of Patriot Nation athletic programs.
"Their parents have allowed the people who have been coaching them throughout these years to coach them," Gray said of the Lady Patriots success on the court. "That is something that needs to be said about our community and our parents that they are willing to do that."
Sagester will continue to work on all aspects of her game including long range shooting this upcoming 2022-23 high school season before heading off to Marshall University.
"That's no secret what I do best," she said of her 3-point shooting. "I hope I can improve on other aspects of my game but obviously the shooting will still be there."