VERSAILLES – The Versailles Tigers defeated the visiting Anna Rockets 67-47 in non-conference basketball action.
"When we take care of the ball really well we've been successful all year," Versailles coach, Travis Swank said of his young team. "Our kids have grown and matured as the year has gone on. We're taking better care of the ball right now."
The Teams played to a 14-14 tie after one quarter of play with Lucas Stammen scoring five Tigers points including a triple.
"Drake (Ahrens) is our point guard, he handles the ball and does a lot for us offensively," Swank said of his 6'0" freshman guard. "He necessarily doesn't score a bunch of points but he is our facilitator out there."
Versailles stepped up its play at the offensive end of the court outscoring the Rockets 20-12 in the second sending the teams to the break with the Tigers leading 34-26 with 6'7" senior, Connor Stonebraker leading Versailles with 8-points.
"We tried to exploit is as good as we could with our size inside," Swank said. "We ran a lot of good stuff tonight to get him (Stonebraker) the ball."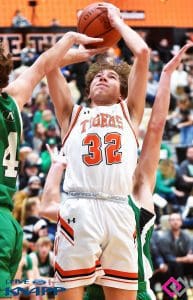 The home standing Tigers were 2-points better than Anna in third quarter action with 4-fouls sending Stonebraker to the bench. Versailles took the period 14-12 to lead by a double digit 48-38 score with three quarters in the book.
"I was really pleased to see how our team responded when Connor (Stonebraker) went out with foul issues," said Coach Swank. "We really haven't had that this year where he's picked up four early on in the game and our kids responded really well. Joe Ruhenkamp came in and did a heck of a job for us tonight. He was prepared and did his job and that's what you expect."
Versailles played well at both ends of the court in the fourth taking the period by a double digit 19-9 score to win going away 67-47. Joe Ruhenkamp led the Tigers with six fourth quarter points and Stonebraker chipped in 5-points including 3-3 at the line.
"Our kids responded," noted Swank. "The kids that were out there did what they were supposed to do and it worked out for us here tonight."
Stonebraker led Versailles and all scorers with a game high 21-points.
BOXSCORE:
VERSAILLES 67, ANNA 47
VERSAILLES – C. Stonebraker 21, AJ Griesdorn 11, J. Watren 10, J. Ruhenkamp 10, D. Ahrens 8, L. Stammen 7 – TOTALS 23 12-19 3 67
ANNA – D. Doseck 16, C. Seigle 11, M. Carey 11, D. Madden 6, Z. Osborn 1 – TOTALS 11 16-21 3 47
3-POINTERS
Versailles 3 (J. Watren 2, L. Stammen 1)
Anna 3 (M. Carey 2, C. Seigle 1)
SCORE by QUARTERS
14-20-14-19 67 Versailles
14-12-12-09-47 Anna