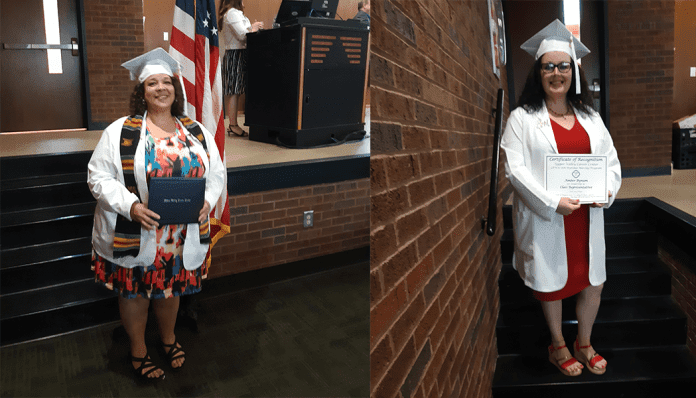 Upper Valley Career Center's Adult Education recently held a ceremony to acknowledge the accomplishment of nine students who completed the LPN to RN Diploma program. This first cohort included Amber Bynum, Brittany Wright, Danielle Jones, Jolisha Jones, Larissa Hicks, Malena Chacon, Natalie Mannheim, and Tyler Morrow.
The program is a new addition to the offerings at UVCC, where current Licensed Practical Nurses can train to become a Registered Nurse in just 12 months – while still being able to work. Classes meet three times each week and build upon their existing nursing skills to advance them to the next level. The program was implemented to meet the need of local healthcare providers for more RNs in our region. Those students who wish to continue on and earn their bachelor's degree in nursing can do so through a partnership with Muskingum University.
"UVCC is focused on offering our students pathways to successful careers – because every person's journey is going to look a little different," said Duane Caudill, Director of UVCC's Adult Education. "We meet students where they are and work with them to achieve their goals."
UVCC currently offers healthcare classes for adults for State-Tested Nursing Assistant (STNA), Practical Nursing (PN), and Practical Nursing to Registered Nursing Diploma. For more information, visit www.uppervalleycc.org.