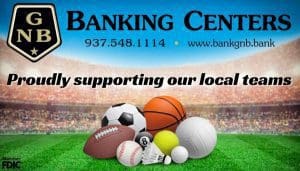 LIBERTY, IN – The Union City Lady Indians dropped a 48-34 road game to the Union County Lady Patriots.
A sluggish Union City start made for a tale of two halves as the home standing Lady Patriots would grab a double digit 18-10 first quarter lead and never look back.
Period No. 2 was no kinder to Union City as the Union County ladies took the quarter 15-6 sending the teams to the break with the Lady Indians trailing 33-14.
Union City battled back to take the third quarter 9-5 and the final period 11-10 to win the second half 20-15 while coming up short in the game.
Union City was led by Oaklee Reichard with 14 points, 7 rebounds, 5 steals and 5 assists. Evans added 10 points and Fischer 6 rebounds.
The Lady Indians JV also lost to Union County. Jones – 2 points 3 rebounds 2 steals, Mata- 2 points 3 rebounds 1 steal, Kerns- 2 points 7 rebounds.
The UC Lady Indians varsity team stands at 8-12 on the season and will play next Saturday, at Home against Wapahani.
BOXSCORE:
UNION COUNTY 48, UNION CITY 34
UNION COUNTY – S. Hill 19, A. Gray 5, B. Fields 5, C. McCashland 5, P. Gillman 5, H. Hughes 5, K. McCashland 1 – TOTALS 13 10-16 4 48
UNION CITY – O. Reichard 14, E. Evans 10, A. Black 4, C. Fischer 4, G. Ordonez 2 – TOTALS 11 3-8 3 34
3-POINTERS
Union County – 4 (A. Gray 1, B. Fields 1, C. McCashland 1, P. Gillman 1)
Union City – 3 (E. Evans 2, O. Reichard 1)
SCORE by QUARTERS
18-15-05-10 48 Union County
08-06-09-11 34 Union City