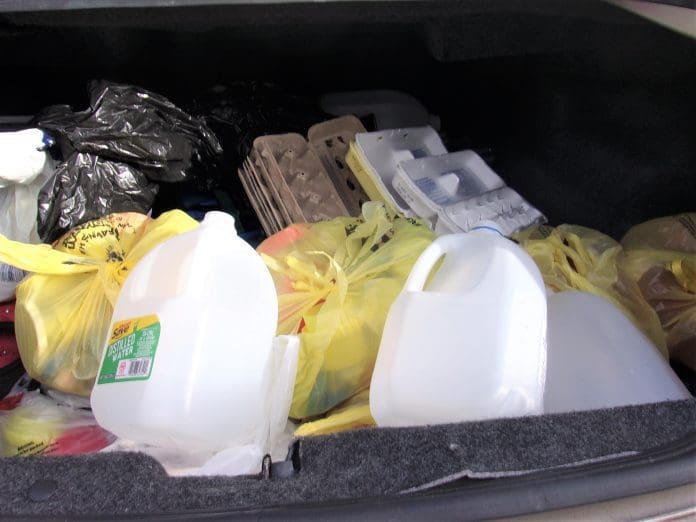 I began recycling things quite a few years ago after going to a farm program for youth at the Coliseum on the Darke County Fairgrounds.
Krista Fourman, now Unger, was giving a session on recycling and telling about the future of our land and its dim future if we don't begin recycling.
So, I began and my stash grew immensely over time.. I started out with plastic bottles, cans and glass per load and about the same time with paper and cardboard in 30-gallon plastic lawn bags.
Jamie and I drink a lot of bottled water so that takes up a lot of our recyclables.
And, it's a good feeling knowing that you're contributing to the earth's preservation and an even better feeling when you can take it to the recycling bins offered by Rumpke in our town, to make more room in your household to start anew.
Now, the trunk in my auto helps in storing some of the other recyclables I have started in recent years….gallon plastic milk/water jugs that I donate to the Shawnee Prairie Preserve, egg cartons to whomever I know needs them, plastic bottle caps and aerosol cans for Darke County Solid Waste Management District (SWMD), the lids to be made into benches and such; and medicine bottles I can take to a local medical clinic for recycling. And, I don't want to leave out that I take paper to shred day at the SWMD twice at year at the fairgrounds for the past couple of years. Before I began doing that, I was shredding the paper at home and it seemed like it took forever.
This is why I am so grateful that these programs exist, not only to help our environment but to help me organize myself a little better.
I think it's great too that Solid Waste Management has Trash Bash, with local groups cleaning up the side ditches of litter on Darke County roadways, not to mention its appliance, electronics and tire recycling events on various dates.'
Now to find someone who needs plastic shopping bags. Oh yeah, I have them too. Whew!
******
Jamie and I extend our condolences to the families and friends of Tena Leichty Black, Carl Bricker, Connie Wentworth, John Printz, Jeanette Whittaker, Robert Delk and Judy Wallischeck Byrd.
******
Please pray for these people: Ron Mills, Jeremy "Jerm" Burke, Gary Eichler, David Pretzman, Clinton Randall, Abby Heck, Linda Lore, Ralph Byrd, Beverly McCabe Baker, Linda Arthur, Rusty Maloy, Debbie Mayse, Ronnie Norton, Lindsay Purnhagen, John Newbauer, Sonja and Dan Coppess, Miranda Weist Flora, Ericka Trigo, Jeanie Francis, Noah Back, Mary Moran, Harvey Hinshaw, Bruce Kaiser, Angie Brown, Nikole Baldridge, Melikka Riffell, Amanda Mote, Tom Moody, Gary Francis, Anthony and Theresa Grillot, Lee Everhart, Paul Gigandet, Doug Whittington, Tracy Pratt, Kinley Bernard, D'Arleen Waymire, Tish Hodson Shepherd, Zach Urbancic.
Also, Sharon Gamster, Connie Stachler, Rick Libert, Harold Libert, Randy Heck, John Rimmer, Joan Keen, Carol Hemmerich, Sharon Hummel, Dave Hinshaw, Larry P. Fitzwater, Jim Thomas, Neal Gray, Michael Mowery, Debbie Mayse, Kenny Edwards, Judie Hathaway, Della Burch, Ned and Brenda Wallace, Connie Buemi Hodson, Rick Marker, Randy Garrison, Steve Waymire, Warren Menchhofer, Kenton Turner, Gary Knick, Karen Hecht, Jannie Barrow, Kathy Gragorace, Danny Foster, Noella Combs, Clay Sheffer, Becky Everhart, Marie Rieman, Becky Oliver, Albert Duncan, Jayden Martin, Jeff Rider, Stefani Priest, Steve Neff, James Enicks, Joann Freeman, Cathy Collins Peters, Donna Bixler, Vanna Hannam, Linda Subler, Roger McEowen, Jerri Barber, Sally Burnett Ganger, Gloria Hodge, Jeff Baltes, Judy Hoffman and daughter Shelly, Cathy Melling, Scott Clark, and all of those who are suffering from other life-altering illnesses.
******
Happy birthday:
Jan. 18 to Ralph Byrd, Tom Moody, Jeff Wappelhorst and Tonya Francis Riffell.
Jan. 19 to Crystal Mead Rediger, Nicole Fenton, Kelly Menchhofer, Jeff Minnich and Deb Crist.
Jan. 20 to Judie Hathaway, Josh Riffell, Karen Fiste, Ellen Hetzler, Alexa Hetzler, David Kress, Bud House and Taylor Hammaker.
Jan. 21 to Connie Hodson, Elzie "Junior" Bryant, Tina Lyme, Cindy Shuttleworth, Denise Huff and Jennifer Trittschuh.
Jan. 22 to Tammy Hodson Mendenhall, Linda Miller Budde, Shawn Trissel, Leon Rogers, Diane Delaplane, Mindy Saylor, Greg Moody and Jim Holland.
Jan. 23 to Missy Hall Guillozet, Mark Heggie, Dixie Whittaker, Tyler Greer and Diana Sleppy.
Jan. 24 to Marlene Mears, Mindy Bowers Schaefer, Rick Lee and Toni Midlam.
******
Think about it: "Never let the fear of striking out keep you from playing the game." –Author Unknown