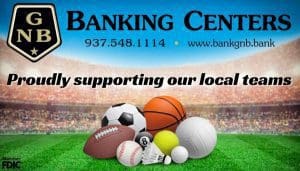 UNION CITY, IN – The Union City Lady Indians earned a 42-25 conference win over the visiting Hagerstown Lady Tigers 42-25 in the Union City's final home game of the 2022-2023 regular season.
Seniors Emily Evans and Grace Shoemaker were honored prior to the start of the home game.
The Lady Indians were led by Reichard with 15-points, 7-rebounds and 5-steals. Ordonez added 14-points and-2 steals. Fischer had 10-rebounds for the Union City.
The Lady Indians stand at 9-14 and will play in the first round of sectional on Tuesday at Randolph Southern with a 7:30 p.m. tipoff.
The JV also finished the season with a victory over Cowan. Kerns 13-pts and 9-rebounds. Evans 6-points, 14-rebounds and 3-steals. Banda accounted for 6-points and 2-rebounds. Mata added 4-pts and 5-rebounds.
BOXSCORE:
UNION CITY 42, HAGERSTOWN 25
UNION CITY – O. Reichard 15,G. Ordonez 14, S. Smith 4, C. Fischer 4, E. Evans 3, A. Black 2 – TOTALS 13 10-19 2 42
HAGERSTOWN – H. Ridge 7, K. Harris 7, D. Oliger 3, K. Ferriell 3, H. Harris 3, S. Martindale 2 – TOTALS 4 5-8 4 25
3-POINTERS
Union City 2 (O. Reichard 1, G. Ordonez 1)
Hagerstown 4 (H. Ridge 1, K. Harris 1, K. Ferriell 1, H. Harris 1)
SCORE by QUARTERS
11-09-11-11 42 Union City
04-09-07-05 25 Hagerstown