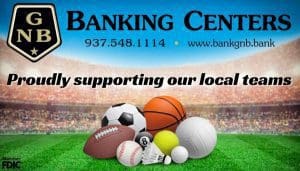 Sidney – The Tri-Village girls basketball team traveled to Sidney to take on the 8-2 Yellow Jackets Saturday to close out 2022.  It's the type of challenge good teams look forward to and both schools were up to task.
Sidney was fired up and had a good crowd on hand as they jumped on top of Tri-Village leading 16-5 at one time in the 1st quarter where some teams might fold the Patriots responded in a positive way.
"These types of games are character builders, give Sidney credit they came out and really hit us hard at the beginning of the game … but our kids response to that was really good," Tri-Village coach Brad Gray said.
The Patriots got a fielder by Torie Richards in the lane to close out 1st quarter trailing 16-7.
Trailing 18-7 early in the 2nd quarter 6'3" freshman center Kynnedi Hager took advantage of slumping defense and canned a three-pointer and followed that up with a stick-back to close the gap to 18-12.
Sidney's interior defense was solid, physical and difficult to score against as they boast good size inside as well with a 6'1" center Regan Clark and 5'10" Allie Stockton so Morgan Hunt followed up on Hager's three ball with one of her own and then followed it up with a left-handed runner to cut the margin to 1, 18-17 at the 5-minute mark.
Tri-Village finally grabbed their first lead of the game 24-22 on drives to the basket by Rylee Sagester followed up by a step-back triple.  Morgan Hunt ended the half with a fielder to give TV a 26-22 halftime advantage.
Tri-Village defense would come on strong in the 2nd quarter allowing just 6 points as senior guard Torie Richards frustrated leading scorer Allie Stockton who averages 17 points holding her scoreless in the 1st half and just 3 points for the entire game.
The 3rd quarter turned into a physical affair with both teams locked in on defense.  Sidney utilized their athletic guards to pressure the Patriots full court and not allowing them to get comfortable running offense.
Sidney got hot in the 3rd quarter behind Larkyn Vordemark who scored 8 of her 16 points in the game in the frame and helped the Jackets regain the lead 36-34 heading into the final frame.
The Yellowjackets defense gave up just 5 points to Sagester and free throws by Richards in the quarter.
Tri-Village regained the lead early in the 4th after Hager fielder and free throw 41-38 only to see the Jackets tie it at 41 with a triple Jordan Scully.  She would knock down 4 in the game.
The Patriots maintained composure and jumped ahead 47-41 with 3 minutes to go and the game would get chippy the rest of the way as Sidney tried to get back in the game.
They would end up sending Patriots to the free throw line 18 times and the Patriots made 16-of-18 with Rylee Sagester making 12-of-12 to help the Patriots close out the game with a 60-53 victory.
After the game coach Brad Gray was pleased to see his team respond to adversity and maintain composure especially in the 4th quarter.
"I thought our kids' response in the 1st half was really good and when things got a little bit heated, you know, emotionally and stuff. In the second half, I thought our kids did a great job of keeping their composure in that situation," Gray stated.
"We talked about that in the locker room is something honestly, last year we weren't really good and allowed high emotion situations to get the best of us. So that's really encouraging. I mean, of all the things we take from this that's probably the thing I'm most proud," Gray beamed.
"We got great play from our veterans today, but I'm pleased with development of the Kynnedi Hager right now. It was a mature game by her considering her age," Gray praised.
"She is a good passer at her position and  a very willing passer, but sometimes  to a fault. I thought there were a few possessions  where she could have probably taken a layup but her composure in these big games even going back to the Russia game has  been really big down the stretch and that is very encouraging," Gray concluded.
The Patriots only had 4 players score with Sagester scoring 24, Richards 15, Hunt 11 & 10 rebounds, and Hager 10 points, 8 rebounds.
The Patriots close out the 2022 season at 12-0 and will play a strong Dixie team at Dixie Thursday January 5th.