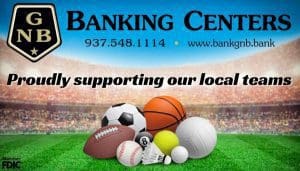 DARKE COUNTY—My County Link Athletes of the Week for the week of Dec. 26, 2022 are Tri-Village senior Rylee Sagester and freshman Trey Sagester.
Rylee is coming off a career high 40-point game where she knocked down 9 triples to tie her own school record for 3's in a game. She is averaging 25 points a game this year for the 11-0 Patriots.
Trey is a freshman who is seeing playing time off the bench and has been a productive force when he enters the game. Trey had 14 points in the 1 st round of the Patriot Holiday Tournament on Thursday and then 9 points on Friday in the championship game including two straight drives to the rim for scores to help the Patriots go up 6 on their way to a 54 39 win over Eaton. Trey was named to the All-Tournament Team.
It was a big week for the Sagester family, dad Josh Sagester who is also Tri-Village boys basketball coach picked up career win #300 in the Patriot Holiday Tournament Championship game.
My County Link chooses two stand out high school athletes from the Darke County schools each week. We will consider insight and recommendations from coaches and staff.