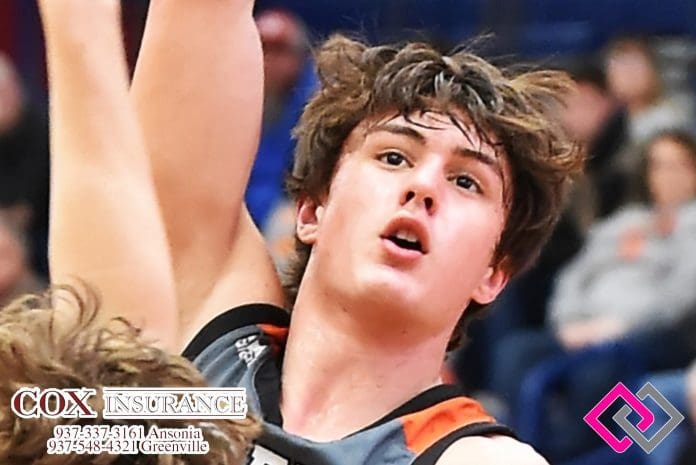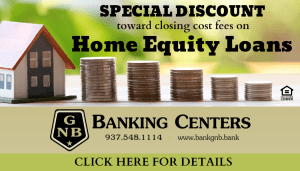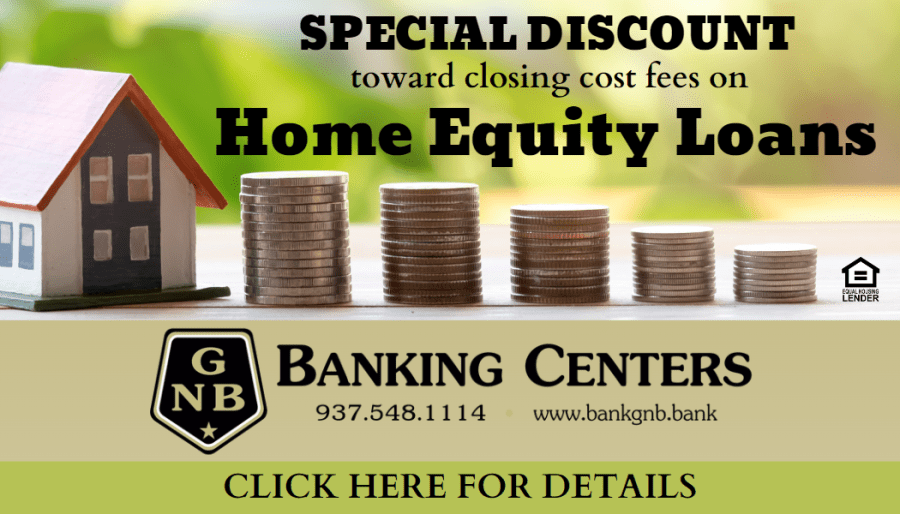 PIQUA – In a Division IV basketball tournament rematch of a regular season contest, Ansonia's
Tigers avenged an earlier loss to Bradford's Railroaders by a 77-62 count in action Saturday evening at Piqua High School. Both teams came into the game riding hot streaks, Ansonia winners of seven of their last nine while Bradford had won their last four but it is the Tigers who will continue on down the tournament trail.
Ethan Reichert came out smoking as he connected on three shots from outside the arc on his way to sixteen first half points, Trevor Hemmerich made two from downtown, and Garrett Stammen added eight points as the Tigers sprinted to a 41-31 halftime lead.
Ansonia shot 63 percent from the floor in the first two quarters, hitting 15 of 24 including 6 of 10 from three-point range.
The 'Roaders countered with all five starters scoring between five and eight points in the half, with Landon Monnin leading the way. Bradford shot a respectable 45 percent to stay in the game at intermission.
The third quarter sealed the Railroaders fate as Ansonia dominated in the paint, physically outmuscling Bradford by a 19-9 advantage to take a 60-40 lead into the final stanza. Six Tigers scored while holding their opponent to but three field goals.
In the fourth quarter, Ansonia spread the floor, taking only three shots while converting 13 of 18 free throws to cruise to the final 15 point margin of victory.
Ansonia Coach Tony Overton said "we knew it would be a grinder but the boys responded. Once we got the lead we tried to spread it out as we knew Bradford would have trouble stopping us off the bounce. When we get three or four guys scoring in double figures it leads to wins. How about Ethan Reichert? This was a huge win for the program and now we'll face a good team in Fort Loramie. It's good to be a Tiger!".
Jay Hall, the 'Roaders mentor, was quoted as saying "We're disappointed in the outcome; we didn't have the energy we needed when Ansonia came out on fire and got rattled early. Credit to Coach Overton and his team, this is two years in a row leaving disappointed".
Reichert led five Tigers in double figures with 18 points, while Ian Schmitmeyer and Exzaviar Moody (off the bench) had 15 each and Trevor Hemmerich and Garrett Stammen added 13 and 12 respectively. The team shot 59.5 percent from the field and made 20 of 29 from the charity stripe.
Bradford placed four starters in double digits in a losing effort being paced by Owen Canan's 16 markers with Hudson Hill adding 14, Landon Wills 12, and Landon Monnin 11 while Tucker Miller notched 9. All but Monnin will return next year so the future looks bright for the 'Roaders.
Bradford finishes the season with a 14-9 record despite losing All-WOAC senior Parker Davidson early in the year with a season-ending knee injury that was surgically repaired in the past few weeks.
Ansonia, now 13-10, advances to face the Redskins of Fort Loramie in the second round at Piqua on Thursday night at 7:30 p.m. The 'Skins enter with a 17-6 mark after handily defeating Covington by a 76-54 score.
In the first game of the evening, state-ranked Jackson Center pummeled Bellefontaine Calvary Christian 48-17 to go to 22-1 and will take on Fairlawn in a 6 p.m. pairing Thursday at Piqua.