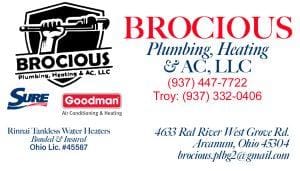 GREENVILLE–Virginia (McCabe) O'Dell held on to her title as Oldest Person of the Year at the Great Darke County Fair on Monday morning.
For the second year in a row, she has won the annual event. And, once again, she received the $100 prize money given by the Darke County Agricultural  Society and Gregory Peck Sound System.
Quite a few people were in their 90s, but O'Dell's 104 years topped them all. Another woman, who was not identified, was also 100 but not as old as Virginia.
Virginia is no stranger to the Darke County Fair as she has spent many years in the flower department, winning lots of awards. Virginia, who attended New Madison High School, said her favorite flowers are coleuses, roses, and African Violets.
It was also noted in a previous interview that she showed Holsteins as a 4-H'er at the Great Darke County Fair.
She said she was going to spend her winnings on something at the fair, but didn't elaborate on what her plans were.
Born March 22, 1919, she and her husband, the late Robert O'Dell, owned Producers Livestock for many years until they retired.
They were the parents of two sons, Larry and the late Ronald O'Dell. She has six grandchildren and quite a few great-grandchildren.
A resident of the Brethren Retirement Community, she was escorted to the fair by family members, including daughter-in-law Judy O'Dell and granddaughter Kelly Sanning.
She is and/or has been associated with the following organizations: Fort Jefferson Church; and the Senior Citizens of Darke County. She has been known to play cards with the senior citizens and work crossword puzzles.