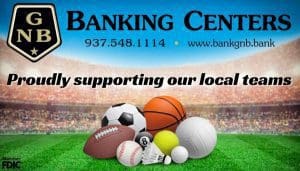 UNION CITY – Mississinawa Valley put 10 Lady Blackhawks in the scoring column to defeat the visiting Twin Valley South Lady Panthers 83-19 in Thursday night WOAC action.
"We boxed out well, we pushed the ball well and we played as a team," said MV coach, Michael Paige. "Hopefully we can keep playing as a team and we can get better every game."
Mississinawa Valley grabbed an early 26-6 lead after one period of play with sophomore Taylee Woodbury knocking down 11-points including a trey and Syenna Purdin hitting for 7-point including a triple to pace the Lady Hawks.
Period No. 2 went to MV by a 22-5 score with Coach Michael Paige using his bench sending the teams to the break with the Lady Blackhawks leading 48-11 and a running clock in play to start the second half of varsity girls basketball action. Brenna Price paced MV with 6-points in the second.
The Lady Blackhawks continued to roll in the third with Coach Paige going deep into his bench to take the quarter 18-2 and lead 66-13 with one period to play.
"We've been working on our man to man defense," Paige noted. "We wanted to focus on that today. We were able to get a lot of girls in the game."
A quick fourth quarter played out to a Mississinawa Valley 17-6 score giving the home team the win.
"We played aggressive and they played hard," said Coach Paige. "We couldn't ask for a better result."
With the win MV improves to 10-2 overall and 4-1 in conference play. South falls to 1-11 on the season.
Woodbury led Mississinawa Valley and all scorers with a game high 25-points.
BOXSCORE:
MISSISSINAWA VALLEY 83, TWIN-VALLEY SOUTH 19
MISSISSINAWA VALLEY – T. Woodbury 25, S. Purdin 18, B. Seubert 14, B. Price 7, J. Hoggatt 5, M. Guillozet 4, M. Townsend 4, I. Ojeda 2, C. Hoggatt 2, C. Fritz 1 – TOTALS 30 8-12 5 83
TWIN-VALLEY SOUTH – J. Ritchie 13, C. Meyers 2, S. Elswick 2, M. Wise 2 – TOTALS 5 6-10 1 19
3-POINTERS
Mississinawa Valley 5 (T. Woodbury 2, S. Purdin 2, B. Price 1)
Twin Valley South 1 (J. Ritchie 1)
SCORE by QUARTERS
26-22-18-17 83 Mississinawa Valley
06-05-02 06 19 Twin Valley South