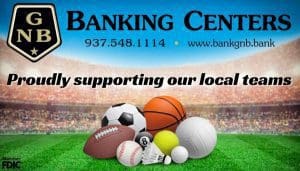 NEW LEBANON – It was a battle between two of the leading teams in the Western Ohio Athletic Conference Dixie (4-1 WOAC) & Tri-Village (5-0 WOAC) and the top two scorers.  Dixie Sierra Brinson came in averaging 24.7 ppg &  Tri-Village Rylee Sagester 24.3.  It would turn out to be all Patriots as they jumped out to 24-5, 1st quarter lead and never looked back in a 79-27 win
Coming into the game the Patriots knew the key to the game was to slow down Brinson and would pay special attention to her with multiple defenders and for the most part was effective enough to limit the power forward to just 12 points well below her league leading average.
Brinson is just a junior and scored her 1,000th career point on Friday December 30th against Oakwood in 50-44 win to close out 2022 with a bang.
I was able to chat with Brinson about that accomplishment.
"It was a super surreal experience for me, and I'm so blessed to reach this milestone my junior year," Brinson stated.
Brinson also knows it's no secret to anyone in the league about her ability to score the basketball and wasn't surprised a good team like Tri-Village would be focused on trying to shut her down.
They (Tri-Village) have a solid team and play good defense and we just kind of struggled throughout the night getting our offense going but that's part of the game," Brinson commented.
Tri-Village was firing on all cylinders in the opening frame with Rylee Sagester and Torie Richards both hitting two triples to jumpstart the Patriots offense for a 24-5 lead.
In the second quarter Sagester connected on two more 3's and had 16 at the half and Torie Richards 12 to lead the Patriots to a 45-15 advantage at the break.
The Patriots sped up the game in the 3rd quarter Morgan Hunt and Torie Richards took advantage as Hunt scored 12, mostly on fast breaks and Richards added 7 more to her tally giving Tri-Village a 66-22 lead heading into the final stanza.
Both squads reserve players saw action in the final quarter with Tri-Village winning the game 79-27.
After the game Tri-Village coach Brad Gray was pleased with his team's effort especially on defense on the way they executed the game plan.
"Obviously, our focus coming into this game was how are we going to stop Brinson? You know, what was the best plan of action? Who do we put on her? Or, do we put multiple people on her, and, you know, we decided to go with Bella Black to match up with her and then allow Morgan Hunt to be a secondary defender in the paint. So, it just kind of allowed us to keep two bodies on her when she was in the paint. And then if they were going to use her at the point guard spot, which they did tonight, and we saw that on film, we would put Torie on her. So, we were able to put different bodies on her depending on where she was.  She had a couple of threes in the first half to her credit, she's a scorer but all in all we made things difficult for her and that's just out of respect for what she can do as a player," coach Gray said.
Although it was a frustrating game for the Greyhounds and Brinson she still had a sense of humor when I asked her about her brothers who were good basketball players in their own right.
"My brothers were both good players and always messing with me and maybe that helped me, however they didn't score 1,000 points so I get to rub that in a little bit," Brinson concluded.
Dixie falls to 4-2 in in WOAC and 7-6 overall and will host Tri-County North on Saturday.
Tri-Village placed 5 players in double figures with Torie Richards leading the way with 21 pts – 8 steals, Rylee Sagester 18 pts – 6 assist, Morgan Hunt 15 pts – 6 assist – 6 blocks, Bella Black 11 pts – 12 reb. and Kynnedi Hager 10.
The Patriots improve to 13-0 overall and 6-0 in the WOAC and they will host National Trail on Saturday.