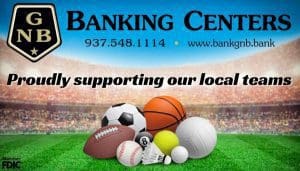 COLUMBUS – The Mississinawa Valley girls dance team competed at the OASAA State Dance Championship on Saturday January 28th at Westerville North High School and returned home with a 9th place finish in the Hip/Hop Small Dance Category.
"The competition was tough among the 11 teams competing in the Small Hip Hop category and all the performances were top notch and the energy of the dancers could be felt throughout the stands," MV coach Daisy Brim stated.
It was a good performance for Mississinawa who was going up against some very large schools including Lakota East High School who won the competition and brought the house down after their performance.
The team is made up of six young dancers: Shelby Fennig, Makenna Guillozet, Harley Hanes, Cali Johns, Allison Waymire, and Taylee Woodbury.
The MVHS Dance Team worked hard to be able to compete at this level, Brim said who is a 2019 graduate of Mississinawa Valley and a former MVHS Dance Team member along with assistant Kelly Guillozet.
"The MVHS Dance Team worked hard to be able to compete at this level," Brim commented.
Throughout the season MVHS competed at the Miami County Fair, the Darke County Fair as an exhibition, Arcanum's Spirt Fest, the Mississinawa Valley Cheer and Dance Competition, the Waynesville Spartan Spectacular, and the OASSA Dance Regional Qualifiers with the ultimate goal of performing at the state level.
"It is a privilege to have had the opportunity to coach such a talented group of young ladies this year. Their love for the sport and dedication to excellence was evident as they delivered one of their best performances at this year's state competition. We of course would have preferred a higher placing, as would any team, but we recognize the honor it was to even compete against such outstanding athletes," concluded Brim.