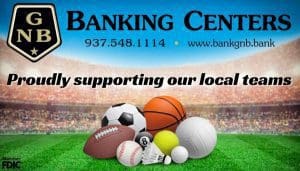 COLUMBUS – The Ansonia girls dance team competed at the OASAA State Dance Championship on Saturday January 28th at Westerville North High School and returned with a 5th place finish in the Hip/Hop Large Dance Category.
The Tigers advanced to the State through a Regional Qualifier and was just 1 of 9 schools to compete in the Hip/Hop Large Category going up against some of the biggest schools in the state including Toledo Central Catholic who won the Hip/Hop title.
But it definitely was a rewarding experience for the girls and coach Ericka Kramer who in the last couple of years has been working on building a successful cheer, hip hop and pom team and she talks about the process they went through this year.
"We actually started in March of 2022 with 28 girls at try out with 16 making the hip hop team.  We still wanted to keep everyone involved and decided to keep all 28 for football cheer and 22 made pom team ," Kramer stated.
"Our pom team competed at regionals this year and had an excellent routine. We're just outmatched by division one, two schools – who have performing arts, professional dancers – but
I am so proud of our girls," Kramer said.
Kramer understands that communities the size of Ansonia have to work around academics, multi-sport athletes competing in volleyball, softball, basketball, weightlifting and other outside activities like FCCLA & FFA.
"Putting time into our program, it's limited, because they're involved in all those other things.
So, we get maybe four, five hours max a week during the school year which makes the summer our main time to practice, and we do those three times a week four hours a day," Kramer commented.
"Our girls competed at the Darke County Fair, Ansonia, Tri-Village, Arcanum, Preble Shawnee and we usually go down to a couple of events in Dayton and will end with the WOAC Championship in February,' Kramer added.
Ansonia took first in hip hop, second in pom at the Darke County Fair, Ansonia and Tri-Village competitions this year.  The pom team was 3rd at Arcanum but the hip hop team didn't place at Arcanum.
Coach Kramer decided maybe it was time to revamp the routine after that.
"Not placing was a huge surprise for us because we had been undefeated in hip hop. So, after that competition we revamped some stuff.  At Preble Shawnee our pom number earned 1st and grand champion and hip hop was second. Kramer exclaimed.
The big goal for Kramer was to keep all her girls involved and that comes with challenges.
You know, once you've been together nine months, you have to find new ways to try to keep them engaged and make it fun.
Well, it appears she has been successful as the Ansonia team has had a phenomenal season and finishing 5that the state competition confirms that.
You know, this ultimately is where we want to be and our girls are having a lot of fun, they get to be together and are creating huge memories.  This is our second year here, we placed eighth out of 11 teams and moved up to 5th this year.  We were just a few tenths away from 3rd place and to be among a select few in Ohio that made it to state it's a huge accomplishment and I am so proud of every one of them," Kramer concluded.
Members of the Ansonia Hip Hop Team: Front Row – Kaylin Johnson, 2nd Row left to right – Brenna Schmit, Abby Kramer, 3rd row – Maddie Buckingham, Gabby Leeper, Mercedes Leeper, Olivia Creager, Ariya Wickham, 4th Row-Bailey Schmit, Lillian Kaiser, Abby Klingshirn, Kelsey Muhlenkamp, Madi Esser, Aleah Shilt, Cennedy Brodbeck