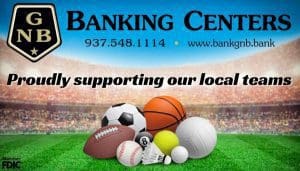 PITSBURG – The Greenville Green Wave traveled to Franklin Monroe to take on the Jets at the Hanger and came away with a 44-37 non-conference win.
"FM is always a great place to play so to come away with a win is good," said Greenville coach, Matt Hamilton. "We knew they were going to be well coached, we knew they were going to come in ready to fight. There's a lot on the line for this game in the county."
"I'm beyond proud of our kids," Franklin Monroe coach, Troy Myers said. "A very emotional game, an opportunity to lose track of what's happening inside the ring. I thought our kids handled it really well, I thought our defensive plan was the right plan, I thought our kids executed the defensive plan."
Both teams were missing a key starter; Greenville senior point guard and 3-point shooter, Jarrod Demange and Franklin Monroe, senior post player Blake Addis.
"Just moves everybody up a spot they don't normally play," Hamilton said. "Thankfully we play an offense that is not entirely driven by positions but you have your senior captain out and it always takes a toll."
The Wave took an early 12-9 lead after one quarter of play with Chase Drew leading Greenville with 4-points.
Greenville pushed its lead to 21-15 after two complete taking the quarter by a 9-6 score. Jack Chick paced the Green Wave with 7-points including his second 3-pointer of the night.
Franklin Monroe battle back to take the third period 11-6 to make it a 27-26 Greenville 1-point advantage with one quarter to play. Carson Yount led the Jets with 5-points including a trey and Gage Wackler and Lukus Miller each knocked down a 3-pointer.
The team's played close the opening six minutes of the fourth with Franklin Monroe taking a 34-33 lead with 2:15 showing on the game clock before Greenville used a 11-3 scoring run to close out play on the night and pull out a 6-point win.
"We weren't very good at the line and we gave up some costly offensive rebounds," Meyers stated. "We had a 1-point lead with a minute and 25 seconds left on the clock. That's an experience we have to take and put it in our bag, hopefully refer to it down the road because that's going to come again and the youth and inexperience showed up in that moment but there won't be anybody to take more blame than myself."
GHS freshman Lucas Brenner paced the Wave with 5-fourth quarter points including his second triple of the night.
Gage Wackler led Franklin Monroe and all scorers with a game high 15-points. Jack Chick was high scorer for Greenville with 14-points.
BOXSCORE:
GREENVILLE 44, FRANKLIN MONROE 37
GREENVILLE – J. Chick 14, L. Brenner 7, D. Hamilton 6, E. Brenner 6, C. Drew 5, H. Livingston 4, AJ Shaffer 1 – TOTALS 9 14-28 4 44
FRANKLIN MONROE – Gage Wackler 15, C. Yount 12, L. Miller 6, Brady Wackler 2, T. Wilson 2 – TOTALS 6 7-13 6 37
3-POINTERS
Greenville 4 (J. Chick 2, L. Brenner 2)
Franklin Monroe 6 (G. Wackler 3, Miller 2, Yount 1)
SCORE by QUARTERS
12-09-06-17 44 Greenville
09-06-11-11 37 Franklin Monroe