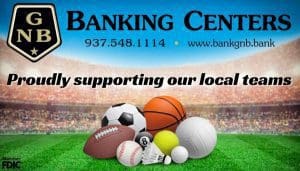 NEW MADISON – The No. 1 state ranked OHSAA DIV Tri-Village Lady Patriots kept its perfect 2022-23 season record intact with a convincing 62-34 win over Three Rivers Conference (TRC) leading Bethel Lady Bees.
"We got great contributions from across the board from all the kids that played," said Tri-Village coach, Brad Gray. "Extremely pleased with how our kids played tonight – that's a good basketball team. Bethel has already clinched their league title and depending how the tournament draw goes I'm sure they will have a nice tournament run so we're real happy with getting this one tonight."
Bethel entered the game with a 12-0 TRC record and a 15-3 overall mark while the Lady Patriots took the floor with 10-0 WOAC record and a 20-0 season mark.
Tri-Village raced out to a 10-0 lead at 4:34 in the first quarter and extended its opening period lead to 19-4 before the Lady Bees would get a 3-point buzzer beater from way downtown to close out first quarter play with the Lady Patriots up 19-7.
"We were up 19-4 and I thought we did a good job of maintaining that lead, not allowing them to get back into the game," Gray said.
Six Lady Patriots got in the first quarter scoring column paced by Rylee Sagester's 7-points including her first of four 3-pointers on the night.
Quarter No. 2 went to Tri-Village by a double digit 19-9 count with Morgan Hunt and Sagester each with 7-points including two Sagester treys. Torie Richards chipped in 5-points including a triple sending the teams to the break with the Lady Patriots leading 38-16.
Bethel made an attempt to get back into the game scoring 13 third quarter points only to fall farther behind with Tri-Village putting 17-points on the board to lead 55-29.
Morgan Hunt accounted for 7-points including 3-4 at the line, Richards added 5-points including her third 3-pointer of the game, Sagester canned her fourth trey and Bella Black added a 2-point basket.
"Morgan (Hunt) has her mojo back," Gray noted. "Kynnedi Hager is continuing to give us great minutes when she comes in the game and Sid (Sydnee Delong) is playing better. She is going and rebounding and she's gotten better each time out."
The fourth quarter saw a slowed game with the Lady Patriots outscoring the visitors 7-5 to earn the non-conference win.
"We had a great crowd here tonight for our girls game and the boys are playing after," said Coach Gray. "I'm hoping this crowd shows up again on Thursday – our girls deserve it. They deserve to have spectators here to appreciate the time and dedication they put in, putting on a nice product for our community so I'm hoping our community comes out and supports us. It's a big game, it's for all the marbles when it comes to the conference."
Hunt led Tri-Village and all scorers with a game high 22-points.
With the win, Tri-Village improves to 21-0 on the season and Bethel drops to 15-4 on the year.
BOXSCORE:
TRI-VILLAGE 62, BETHEL 34
TRI-VILLAGE – M. Hunt 22, R. Sagester 18, T. Richards 11, B. Black 4, S. Delong 3, K. Hager 2 – TOTALS 16 6-12 8 62
BETHEL – K. Moore 13, M. Montgomery 8, K. Calhoun 8, Z. Drummond 3, R. Reittenger 2 – TOTALS 10 5-6 3 34
3-POINTERS
Tri-Village 8 (R. Sagester 4, T. Richards 3, S. Delong 1)
Bethel 3 (K. Calhoun 2, Z. Drummond 1)
SCORE by QUARTERS
19-19-17-07 62 Tri-Village
07-09-13-05 34 Bethel