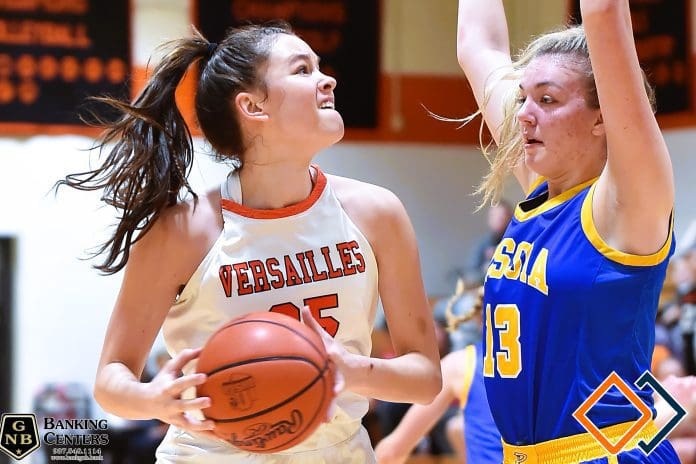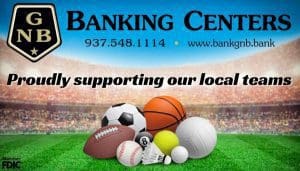 VERSAILLES – The Versailles Lady Tigers won three out of four quarters in a game played in the old Versailles gym but lost the battle on a Russia Lady Raiders last second shot with the ball banking in off the glass to earn the non-conference 49-48 win.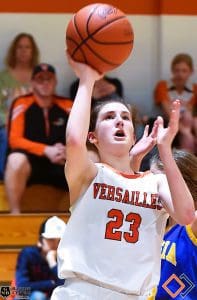 "It doesn't come down to the last possession," said Versailles coach, Tracy White. "It comes down to the first quarter, missing box-outs, not executing early."
Russia took the opening quarter 19-10 and pushed its lead early in the second period to double digits, 22-10 at 7:31 in the second quarter.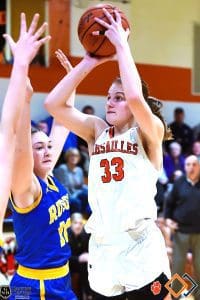 "It would have been huge for the ball to fall our way – today we didn't have a lot of those things fall our way," White stated. "We did work through some adversity. We had a couple girls that played sick and they played through it. You wouldn't even know they were throwing up."
Versailles used a 12-6 scoring run to close out first half play to trail 28-22 with the teams heading to the halftime break.
Versailles continued to chip away at the Lady Raiders lead and grabbed a 32-31 advantage with 1:55 on the third quarter board before the teams settled on a 39-35 Russia lead with three quarters in the book.
"Taylor (Wagner) posted strong," said Coach White. "Their posts are good, their posts are physical and she was getting low. She was athletic and she was posting strong, going up strong, she finished well."
"I felt like for a stretch of the game we got away from getting the ball to our posts and a few times we're down and that got us back into the game," she continued. "Then we go away from it for a couple minutes whether it be because of their pressure or whatever it be we don't get them the ball and that puts us in the situation to being up one. If we continue to go to an inside out game and get those ball reversals that's not necessarily a one point game. Maybe that's a coaching thing to tell them earlier, get it back inside."
Period No. 4 had Versailles playing from behind before Taylor Wagner stepped to the charity stripe with 0:11.3 on the game clock and calmly sank back-to-back free throws to give the Versailles Lady Tigers a 48-47 lead. A pesky Versailles defense kept Russia at bay only to have the visitors throw up a shot with 0:00 showing on the clock as the ball banked off the glass through the net for the 1-point victory.
"As much as I hate losing this is only going to make us stronger come post season," said White. "The next time we're in this situation, everybody can rotate, everyone can play one second longer to play good defense – that's all we needed."
"Russia is a great team that we are right there to beat within one-second," Coach White concluded.
Cece Borchers led Russia and all scorers with a game high 16-points. Taylor Wagner paced Versailles with 15-points.
BOXSCORE:
RUSSIA 49, VERSAILLES 48
RUSSIA – C. Borchers 16, R. Goubeaux 11, K.  Sherman 10, R. Poling 7, K. Doseck 4, J. Shappie 1 – TOTALS 11 15-24, 4 49
VERSAILLES – T. Wagner 15, L. Litten 10, A. Schwartz 9, J. Dirksen 6, L. Magoto 4, C. Leach 4 – TOTALS 16 16-23 48
3-POINTERS
Russia 4 (R. Goubeaux 3, C. Borchers 1)
Versailles 0
SCORE by QUARTERS
19-09-11-10 49 Russia
10-12-13-13 48 Versailles