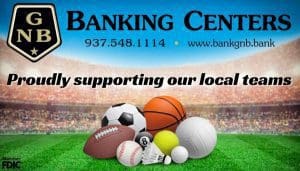 CAMDEN – In a game that had WOAC girls' basketball league title implications it was the more experienced 9-0 in league Preble Shawnee coming out on top, snapping a 12-game win streak of a young and talented 8-1 Mississinawa Valley squad 63-47.
It was also senior night recognition for Shawnee's Campbell Jewell, Harlee Howard and Liv Thompson and all three delivered big in the last game on their home floor as their combined experience proved to be the difference.
"So obviously, coming into the game we knew what was on the line if we wanted to compete for a league championship.  I felt like this probably was the most prepared we've been and the last thing I told the seniors when we walked out to start the game, was hey, play like seniors," Preble Shawnee coach Maggie Neanen said.
That pregame statement couldn't have been more perfect.
In the opening frame the Blackhawks tried to establish a fast pace in the game with full court pressure and pushing the ball up the floor every chance they could.  Shawnee neutralized MV's guard play but wasn't able to stop the inside game of jr. MacKenzea Townsend and freshman Brooklynn Seubert who each had 4 points.
The arrows countered with 7 from Liv Thompson and 4 from Bella Agee to hold a 13-12 lead.
Shawnee got 5 big points in the 2nd frame from Korrie Woodard, but the Hawks Townsend loomed large in the paint adding 7 more points and 11 at the half to keep the game tight trailing 24-23 with 1:37 left in the half.
Mississinawa sensational sophomore guard Taylee Woodbury coming off a 36-point game and 10 steals was starting to show frustration as senior guard Campbell Jewell's on ball pressure slowed her down and she picked up a 3rd foul causing her to sit the rest of the 1st half.
It was the senior experience and composure shown by Shawnee at the end of the 2nd quarter and the 7 points by Howard in the stretch that gave the Arrows an important 31-23 lead and momentum at the break.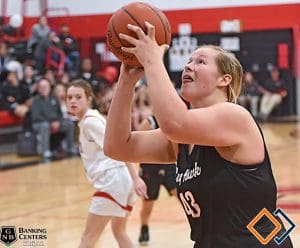 "Cam played phenomenal on defense and did a great job of containing Taylee and Harlee always has that kind of fire and drive that sparked us at the end of the 1st half," senior guard Olivia Thompson said.
That effort by her senior teammates was appreciated and was the push Liv needed heading into the 2nd half.
The third period turned into the Liv Thompson show as the senior showed all her skill sets scoring off the dribble, at the rim and beyond the arch for 14 of the 16 Arrow points to extend their lead to 47-35.
The Hawks needed to find scoring in other places and got four from jr. Brenna Price and five from sophomore Syenna Purdin in the frame.
"After the way Cam and Harlee played in the first half and the effort by Bella Agee battling inside I figured it was my turn" Liv exclaimed adding 11 more points in the 4th quarter and ending the game with a career high 34 points.
Mississinawa wasn't able to generate enough offense to keep pace, but they did lean on Townsend inside who delivered 6 more points and a career high 19 for the game along with 12 rebounds.
"They have 3-four-year players all seniors; Campbell is a D1 athlete and Liv is an outstanding scorer up against our sophomore guards Woodbury and Purdin and it simply came down to maturity, they were a little craftier than us today and that experience showed a little more than ours did," Mississinawa Valley coach Michael Paige said after the game.
"They frustrated us a little bit and shots didn't fall tonight.  I thought there was some calls that could have gone the other way. But that's every game, right?  You know, stuff happens every game, but you got to learn to play through it.  This game will help us get ready for the tournament we just have to learn from those mistakes we made today and apply it going forward," Paige concluded.
The Hawks fall to 16-3 overall and 8-2 in the conference and will play at Houston on Monday.
Although the Hawks came up short in this game it should serve as defining moment as to the type of team they can be with experience to go along with the young talent they have and serve notice that they are going to be a force to reckon with in the post season and over the next few years in the WOAC.
"They're (MV) a tough team, a great team and in two years they will be a phenomenal team," Neanen said after the game.
"Our experience I feel like helped us which is why we kept a very short bench tonight.  Mostly because I feel like the game got too big for some of our bench players. But that's what should happen on senior night in big games, your seniors show up big," Neanen added.
"Liv had a great offensive game; Harlee was good both on offense/defense and Cams defense was just phenomenal," Neanen praised.
In the end it was the more experienced Arrows coming up big with Liv's point production 34, Cam's defensive pressure and Harlee's 11 points, 8 rebounds and toughness in key moments that separated the two teams giving Shawnee the big WOAC win 63-47 to stay perfect at 10-0 in WOAC setting up a winner take all title game at 10-0 Tri-Village next Thursday February 2nd.
"I have nightmares sometimes thinking about not having them in a year, but we're going to enjoy the ride. We've had­ big success because of them. And we're not done yet," Neanen concluded.
For Preble Shawnee seniors their time is now.
Box Score:
Score by Quarter:
MV      12        11        12        12 – 47
PS        13        18        16        16 – 63
Team Scoring:
MV      Ojeda 3, Woodbury 8, Price 6, Purdin 5, Seuburt 6, Townsend 19
PS        Woodard 7, Thompson 34, Jewell 5, Howard 11, Agee 4, Smith 2