GREENVILLE – The Lady Wave dropped a 60-50 varsity basketball game to the visiting Xenia Lady Buccaneers in Thursday night MVL action.
"Our biggest struggle all year has been playing for 32-minutes," said Greenville coach, Rachael Kerns.     "We have stretches where we play really good and we have stretches where we just struggle. We have to figure out how to put it together for 32-minutes and tonight we had some rough stretches and then we had some really great stretches too. Pretty late in the season, still growing, still learning but we really have to figure out how to play for a full 32-minutes."
Xenia grabbed a 17-11 lead after one quarter of play with Greenville's Minaxi Pandey hitting for 5-points including her first 3-pointer of the night, Skylar Fletcher hit two baskets for 4-points and Megan Lind added a bucket.
"We started the game off missing our first two shots and then we give up four offensive rebounds in a row," Kerns noted. "If we limit them to one shot, we make those, instead of being down 5-0 we're up 4-0. When you get it to a 9-point game with about two minutes to go, that's a really big difference."
The Lady Buccaneers took the second period 11-8 sending the teams to the break with Xenia leading 28-19. Josie Camacho accounted for seven of the Lady Wave's eight second quarter points including a trey and going to the line to sink four consecutive free throws including a shooting foul and two tosses by way of a Xenia technical foul.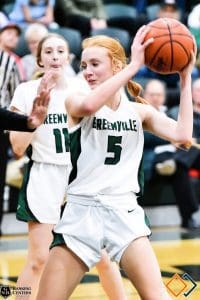 "During that whole technical spin there – Josie had gotten fouled going to the basket," Kerns said. "She looked at me and I said, 'hey you going to make your free throws,' she said yes and I said, 'then you're going to make all four,' and she stepped up and made four of them. You love to see that in a senior,    you love seeing a senior step up and knock them down."
The visitors doubled up on Greenville 16-8 in the third quarter giving the Lady Buccaneers a comfortable 44-27 lead with three quarters in the book.
The Lady Wave battled back to take the final period 23-16 with Fletcher and Gracie Thacker each adding 6-points to the scoring column, Pandey 5-points including her second triple of the night, Lind 4-points including two free throws and a Lauren Wright a 2-point bucket.
"You don't ever want to make excuses but we had a couple girls under the weather tonight," said Coach Kerns. "We just have to figure out how to play through different things – it's hard because a few possessions here, a few possessions there…it could have gotten over a lot quicker but a lot of fight, a lot of grit from the girls."
"They fight, they never quit," Kerns added. "They easily could have folded. It was physical, it was a hard game and we had to work for everything we had. Xenia is very athletic and they can get their hands on a lot of shots, but we didn't quite even a little bit."
Xenia's 5'8" senior, Kendall Sherman led all scorers with a game high 22-points. Fletcher and Pandey paced the Lady Wave with 11-point each.
BOXSCORE:
XENIA 60, GREENVILLE 50
XENIA – K. Sherman 22, A. Withers 14, A. Meaux 11, B. Randall 11, G. Winegarner 2 – TOTALS 14 17-23 5 60
GREENVILLE – S. Fletcher 11, M. Pandey 11, J. Camacho 9, M. Lind 9, G. Thacker 6, L. Wright 4 – TOTALS 15 11-18 3 50
3-POINTERS
Xenia 5 (K. Sherman 3, A. Withers 1, B. Randall 1)
Greenville 3 (M. Pandey 2, J. Camacho 1)
SCORE by QUARTERS
17-11-16-16 60 Xenia
11-08-08-23 50 Greenville