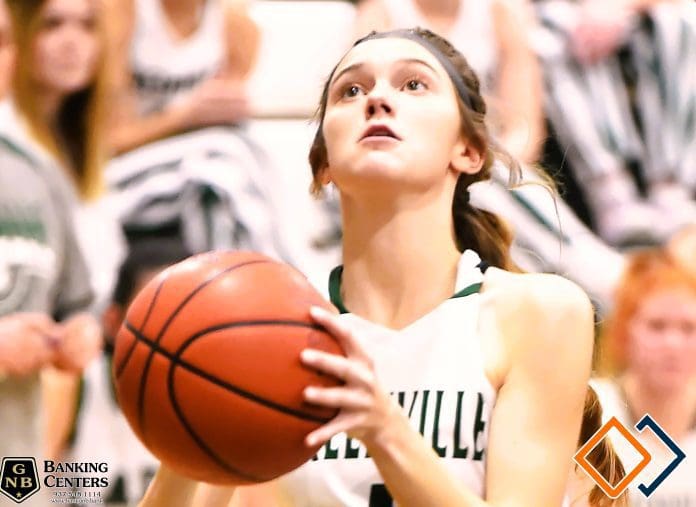 GREENVILLE – The Lady Wave JV basketball defeated the visiting Xenia Lady Buccaneers 49-12 in Thursday night MVL play with 15 Lady Wave in uniform.
"One thing I really like about our ladies, we get to play everybody twice (MVL) and you get to see how much you improve compared to what the other team did – and we definitely took a step forward tonight," said Greenville JV coach, Craig Riethman. "We beat them the previous time we played them but it was a pretty close game. For the most part we were in control the entire time, our effort was phenomenal."
"The girls are incredible," Riethman added. "They work hard, they've been very positive, the entire program has been great from Coach Kerns on down to Mr. Martin and the junior high staff."
The Lady Wave jumped out to a 12-0 first quarter lead before settling on a 17-5 opening quarter advantage with Ava Loudy dropping in 7-points, Addie Klosterman 6-points and Addy Arnet and Jayda Lyons each a 2-point basket.
Period No. 2 went to Greenville 13-1 with Madison Hutchens and Brooke Schmidt each with a basket to get into the scoring mix. The Lady Wave took a commanding 30-6 lead to the halftime break.
Greenville continued to play its bench in outscoring the visitors 9-5 in the third sending the MVL contest to the final period of play with the Lady Wave leading 39-11.
"It makes it hard with not having a true freshman schedule and trying to blend the JV and freshmen together, but it's really nice to see when we are getting our rotations through that there is not a letdown in play," Riethman noted.
The fourth quarter was all Greenville as the Lady Wave would take the final period by a 10-1 score with a running clock in play.
"There's a lot of girls on the bench and every time another group came in or another girl came in I didn't think there was a letdown," said Coach Riethman. "The overall attitude of the team was very positive and it was a very unselfish game for us tonight."
The Lady Wave put eight players in the scoring column with Addie Klosterman leading Greenville and all scorers with a game high 10-points.
BOXSCORE:
GREENVILLE 49, XENIA 12
GREENVILLE – A. Klosterman 10, A. Loudy 9, S. Loudy 6, M. Hutchens 6, J. Lyons 6, B. Schmidt 6, A. Arnet 4, L. Wisner 2 – TOTALS 20 9-21 0 49
XENIA – D. Cooper 3, N. Madison 3, M. Hardin 2, P. Hoosier 2, P. Mitchell 1, J. Dyer 1 – TOTALS 3 6-17 0 12
3-POINTERS
Greenville 0
Xenia 0
SCORE by QUARTERS
17-13-09-10 49 Greenville
05-01-05-01 12 Xenia