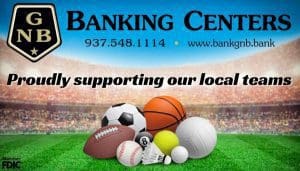 GREENVILLE – Marty McCabe was recently honored at the Greater Miami Valley Wrestling Association Holiday Tournament (GMVWA) with induction into the organization's Wrestling Hall of Fame. McCabe was nominated by Versailles' Jerry Bey.
McCabe, a 1977 Greenville Senior High School graduate was a member of the school's first junior high team coached by Bill Shepard.
"My seventh grade year (1972) we had four scrimmages," noted McCabe. "My eighth grade year we had a full schedule and Denis Bunting was the coach."
McCabe went on to be a four year letter winner for the Green Wave varsity wrestling program under the guidance of head coach Kyle Keagy.
"I was 98 pounds and as a freshman you could get in wrestle varsity at 98 pounds," McCabe explained.
McCabe was introduced to wrestling by his older brother by four years, Mitch McCabe.
"He came home and showed me the moves on our living room carpet so I had to learn how to wrestle to survive," McCabe said with a chuckle. "He was on the wrestling team,"
"It gave me something I could do, a sport I could do and that is important," he added. "We can't all do all sports but wrestling I could do and he introduced me to wrestling. I have always been grateful to Mitch for bringing wrestling."
Missing the sport he loved after graduating from GHS, McCabe looked to the college ranks to continue his passion.
"I went to work but I didn't feel like I was done with wrestling," McCabe said. "I tried out for Wright State. My first match I shot in, my hand snapped back and I broke my hand. I wrapped it and wrestled again the next match and went down to the mat and I broke it worse so we were done."
"I went back the next year and had to have knee surgery at Christmas time," he continued. "I got to wrestle one match and then that was it so I was done with college. I was disappointed but it just didn't seem like it was going to work."
With his wrestling career behind him, an unexpected 21-year coaching career followed including three stops along the way beginning with Tri-Village.
"I was a painter and Jody Flommersfeld called and said Tri-Village was looking for a wrestling coach so I applied for the job," McCabe stated. "I was so young to be a coach of anything and they hired me. I was so grateful for that opportunity. I really appreciate Tri-Village being my first coaching job. Those memories and those relationships are priceless."
The Patriots Ty Schepis was McCabe's first state qualifier he had the privilege to coach.
Next stop for McCabe was a call from Versailles legendary wrestling coach, Bill Roll.
"Bill Roll called and that first year coaching for him was an unbelievable team," McCabe said. "They didn't lose a match until the state finals and Delta won with like 77 points and we had seven or eight less. We were runner-up in the state – won all the duals and beat Graham. We won the Graham Invitational, the Wayne Invitational and all of those tournaments, won the league, the sectional, the district. I had never been a part of anything like that. It was crazy awesome."
"I was at Versailles eight years and then my son Zach was wrestling at Greenville," he continued. "Greenville coach, Kyle Kagey knew I wanted to coach Zach at Greenville so Kyle said I need an assistant and I went over to Greenville and coached for seven years. That was wonderful to coach with Kyle and be a part of my son's team. My son, Noah wrestled a little bit so I got to help coach both of my boys and Hannah my daughter kept stats. My wife Connie went to all the meets so wrestling was a family thing for us which was really neat."
"Wrestling has been a big part of my life. The best part of it for me is conversations I've had with ex-wrestlers and their parents – invaluable, it's been magical, that's the best part."
"I would like to thank Tri-Village for giving me my first coaching opportunity," McCabe concluded. "I would also like to thank Bill Roll for allowing me to coach at Versailles and thanks to my high school coach, Kyle Kagey for giving me the opportunity to coach at Greenville."