GREENVILLE—Pastor Hershel Fee came to Darke County 45 years ago and has made an impact on life here with no plans to ever stop doing that.
Fee, who hails from Harlan in southern Kentucky, made his way to this area in 1978 with his young family.
While in Kentucky, Hershel followed in his father's footsteps and worked in the coal mines for two years. However, he quit after an explosion killed people, including family members.
By that time, his father was already out of the coal-mining business. Fee, the first pastor in his family, attended Trinity Bible College in Florida from 1974-75 and said he got the call to go in 1976 to Kokomo, Ind., to be pastor, which he did for two years.
Fee came from a big family. There were 19 children altogether; 12 by his father's first wife and seven with this mother.
Hershel co-pastored a church in Florida before he went to Kokomo, Ind.
"I felt God speaking to me while in Florida," he recalled. "I talked to the pastor and knew I wanted to do it. I love people and I reached out."
He eventually made the move to Darke County.
His brother-in-law, the late Lee Rutherford, owned the local radio station, WDRK, and Hershel and his wife, Barbara, did the bookkeeping there.
The pastor's plan was to plant a church here, with Lighthouse Christian Center having its beginnings in 1980, with Fee as its founder. Its first service was in a local home and then moved to the Greenville High School cafeteria before buying a former church on Wayne Avenue due to the congregation's growth.
"When we first met, we had about 12 people," Fee said. "At the cafeteria, we grew to 30 people and had 60 to 70 people on Wayne Avenue."
After outgrowing, they decided to buy the 35 acres off of Sebring-Warner Road southeast of Greenville where the campus is now.
"The shell of the church was put up for the congregation, with (the late) Jim Dunwoody doing that for us," Fee said. "The first building was finished around 1980 and a few years later, we added the All Seasons Building, which is now our Main Center. The youth building on the campus, known as U9-turn at the time, was built 15 years ago and features games and a kitchen area."
Now, there are plans to connect the Main Center and the original building this year. That new section will house a foyer, two offices, bathrooms, a coffee bar and information center.
"This new part will be the completion of what I had in the beginning," Fee said.
Lighthouse Christian Center for several decades has been the scene of a free Christmas Dinner, which is still observed today. It was set up to feed those who are lonely at this holiday time and for the less fortunate.
Featured that day is, of course, the meal, plus the singing of Christmas carols, the presentation of gifts to children, door prizes for adults, a visit from Santa and other entertainment….not to mention fellowship.
Shut-ins are also included and food is sent out to the homes that request them.
All of this is made possible by the sponsorships of various businesses and numerous community volunteers who assist.
The idea for a Christmas Dinner came when the pastor preached at a funeral in Dayton, and learned of a similar project in that area.
"I came back and talked to the people of Greenville," he said.
Of course, he got their approval.
Fee has been the Darke County Republican's Men's president, and it was he who started the annual Christmas at Lighthouse Christian Center with the help of his wife, Barbara, who died Nov. 8, 2020, during the COVID.
She was the overseer of the first Christmas Dinner in 1982 and chaired it for 38 years.
"Barb and I did all of the cooking," said Fee, who is currently in Aruba with son Hershel and his family this week.
The pastor indicated that he and Barb loved cruises and had never been there. So, he was looking forward to this adventure.
"Last year at the Christmas dinner, we had 200 deliveries and 300-plus eating here," he said. "Our first one was held at the fairgrounds and we had well over 100 people. They continued at the White Shrine but there was no kitchen there."
"I remember taking the roasters to the car wash to clean them," Hershel recalled. "We did that for a year or two.'
It was at that time, they started being held at the church.
In 2020, the Lighthouse Christian Center merged with the Radiant Church on the Lighthouse Campus, just off of U.S.127 on Lighthouse Way.
This came to be when Fee, asked Wes Lynch, Radiant's pastor, to consider a merger of the two, after Lynch was seeking a meeting place for his church and found it at the All Seasons Place on the Lighthouse complex.
"When we became acquainted, I thought why have two churches when we believe exactly the same thing," Fee said.
They came to an agreement and formed this new church, now known as Radiant Lighthouse.
"It's a good thing Wes and I started this church," said Fee. "The Lighthouse just got brighter at Radiant. We're a good fit. We have no problems, and I'm glad to know my legacy will continue."
"We look forward to shining the light of Jesus in the upcoming days into Darke County," remarked Lynch at that opening ceremony.
Radiant Church had its beginnings April 6, 2019, first meeting at the Softball Academy on Riffle Avenue in Greenville, with 45 people in attendance.
Both of the churches were non-denominational, independent churches and the new church still is.
The two pastors rotate at the Sunday services in the pulpit, with Hershel officiating when he's in town. He was certified in 2009 as a national chaplain and that is keeping him busy as well. He also goes on various mission trips or attending conferences.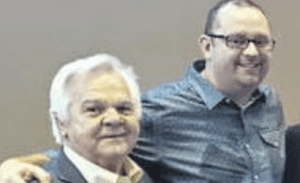 "One mission trip", he said, "was when a group from the church went to Fort Myers, Fla., to help in the flooded areas after the hurricane. We took with us water to hand out to residents and workers there."
Radiant Lighthouse, he noted, sponsors the collection boxes around town that contain food items for people in need to come and take home with them.
"And we have block parties out in the communities for services," he added. "And, we sponsor the Back To School backpacks."
Every other Saturday, he added, the church opens its parking lot for the Shared Harvest food drive, in addition to having its own food pantry open to assist those in need.
"We are also hooked up with handing out Narcan," he also reported.
Fee carries with him a business card which reads at the bottom: Love God, Follow Jesus. Illuminate Darkness.
"We don't tell people to come to church, but be the church," Fee said.
Why the name change of the first church?
"Lighthouse, because we are in Darke County and put a spark in Darke," he replied.
What about the name of the new church, Radiant Lighthouse?
"Lighthouse just got brighter with Radiant," he explained.
Hershel misses his wife, but has good memories.
The high school sweethearts Barb was married to her high school sweetheart, Hershel, for 57 years, after they eloped at ages 16 and 17.
They have three sons: Hershel Jr., Jeff and Eric; seven grandchildren and five great-grandchildren.
Hershel performed the funeral service for his wife, while his sons assisted with the eulogy with the grandchildren closing at the cemetery.
Christmas at the Annie Oakley Park in downtown Greenville was dedicated two years ago to Barbara.
"I have no plans to retire," said Fee, who will turn 79 on Aug. 10. "There's no Plan B. Wes and I are a great fit. I am going to stay in Darke County forever. They got me. It's a good thing Wes and I started this church. It's growing good. And, it's great to know my legacy will continue."