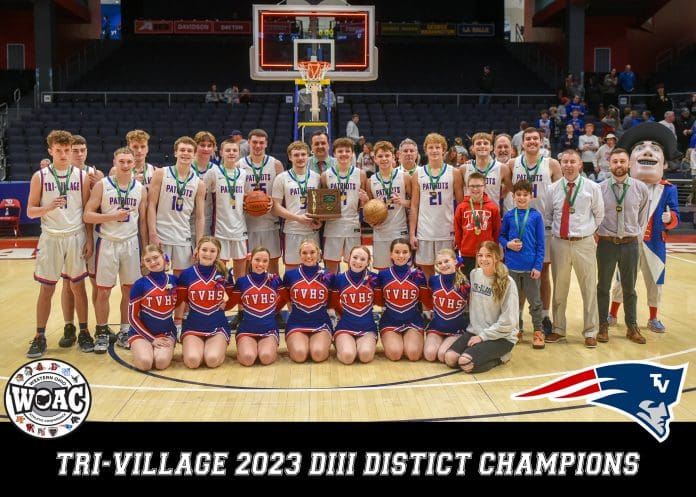 DAYTON – Tri-Village boys basketball team trailed at the half 22-21 and overcame 1-for-16 shooting from behind the arch by leaning on Justin Finkbine and his interior strength, who scored 15 of his game high 22 points in the 3rd quarter to give the Patriots the punch they needed to defeat Greenview 60-50 to claim the Southwest 1 OHSAA DIII District Title.
The Patriots jumped out to an 11-5 lead in the 1st five minutes on two drives by Wilson Suggs lay-ups from Tanner Printz, Justin Finkbine and a triple from Dalton Delong.
The Rams answered with a run of their own closing out the 1st quarter strong to trail 13-10.
Greenview would wrestle the lead away midway in the 2nd quarter 16-15 and defensively worked hard to shut down the dribble drive and challenged everything hard on the perimeter allowing them to hold a slim lead 22-21 at the half.
In the 1st half the Patriots went 1-for-10 from beyond the arch and it was obvious TV coach Josh Sagester was unhappy with the inside game and in particular the play of senior Justin Finkbine.
"I felt like we had a match-up advantage with Justin inside and it was our plan coming in to work the ball inside out because this venue can be a tough place to make shots.  I think our stats in the 1st half show that.  We didn't do a great job of getting the ball to him and I love Justin, he's a three-year starter for me and a warrior but he also didn't look like he really wanted it," Sagester stated.
That message was soon to be delivered at the break.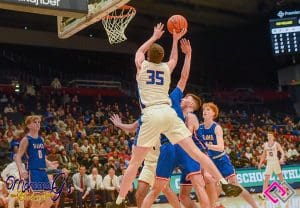 "I kind of had that conversation with him in the locker room. I said, look, we're coming to you, we need you to put the ball in the hole," Sagester said.
Finkbine went from looking like a guy being hampered by kryptonite to Superman on steroids in the 3rd quarter.
With the defensive pressure being applied by the Rams on the perimeter the middle of the floor was open, and the Patriots got the message as they pounded the ball inside.
Finkbine delivered right away on the block to take back the lead 23-22, then two more trips, two more scores putting TV up 27-22.
Then a slight deviation from the plan on a missed perimeter shot turned into a big moment for senior Camden Cook, who just wanted the offensive rebound more as he wrestled the ball away from the defender and spun to the basket for a score making a cameo in the Finkbine show to put the PATS up 29-22.
"That was a big play for us at the time to keep our momentum, Camden was kind of an unsung hero tonight with a couple of big rebounds  and doing things you really don't see out on the floor," Sagester praised.
But Greenview winners of the Ohio Heritage Conference and a 22-win team wasn't ready to pack it up responded by hitting a couple of triples in the 3rd quarter.
But they didn't have an answer for Finkbine, despite trying to send a double team after he caught it … wasn't going to be enough as superman absorbed the contact and finished strong including two and one's and a bucket at the buzzer to end the 3rd quarter with 15 points giving Tri-Village a 38-32 lead.
"I thought our kids did a great job of listening and getting the ball inside in the 3rd quarter, Finkbine responded in the way I expected, you know, he's a warrior, a battler and he delivered like he told me he would," Sagester beamed.
"They (Tri-Village) rely on their outside shooting and guard play, and we did a good job taking that away … but their game plan of going inside in the 2nd half worked and they executed it well." Greenview coach Kyle Fulk said.
The Rams adjusted a bit in the final stanza closing the gap to 4 a few times … but the damage was done as the Patriot guards had just enough breathing room to control ball in the half court and eventually Greenview was going to have to foul to gain more possessions and kill the clock.
In total the Patriots were 19-of-21 from the stripe and 12-of-14 in the 4th quarter.
"That's just unbelievable 19 for 21 here this evening, you know in a 10-point game that's makes a big difference right there," Sagester commented.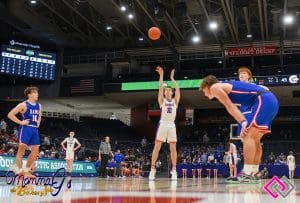 "We hadn't been shooting free throws that well all year long, but we had senior guys step up and make some big plays for us tonight," Sagester praised.
"Dalton Delong was really good defensively on Williams and was one of the guys we needed to control, and he only got a bucket off a steal for a layup, and in the half court he didn't get a basket because Dalton did a great job on him," Sagester commented.
"Wilson Suggs played a very nice basketball game for us, and we kept the ball in his hands in certain spots and he finished well," Sagester added.
"Justin delivered for us like I knew he could it just took a persuasive talk at the half and when I asked him if he could deliver he responded yes, and our other guys fulfilled their roles well…and lo and behold, we're district champs," Sagester exclaimed.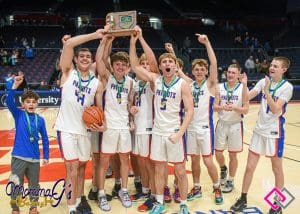 The Patriots would go on to win the game 60-50 for their 1st ever DIII District Championship.
Due to competitive balance the Patriots were bumped up to DIII this season and coach Sagester stated, not many people gave them a chance to win.
The Patriots struggled a little this year finishing games especially early in the year and against Preble Shawnee in the WOAC league championship game which gave rise to a new theme for the team.
You know, we've been talking to our guys about "finishing right" and preached it's going to go 12 rounds, there's going to  be good and bad things but stay in the fight, keep battling.  I believe in our kids and our program and I'm not sure many people thought we'd be sitting here in Division III as Districts champions to be honest. I think everybody was kind of curious to see exactly how we would respond. And I couldn't be prouder of our kids.
It was the 7th District Championship for coach Josh Sagester and maybe one of the most emotional given the loss of his mom Debbie during the season.
Sagester, normally stoic and in control of his emotions pumped his fist and let out a big woo, then gave his dad and assistant coach Mick Sagester a big hug on the floor, then gave out high fives to all the guys, and wore a smile a mile wide during the awards ceremony.
"You know, basketball has been therapy for us. I'm very fortunate to be coaching with my dad and fortunate to be coaching my son (Trey) and watching my daughter (Rylee, Ohio Ms. Basketball Candidate) and my sister's son and daughter all play this year.  We've all been immersed in basketball; it's been therapy for us, and I think it's helped get us through.  It's not going to take it away all the pain, but it helps, and I know mom is watching and cheering along, she's just as excited," Sagester stated.
"It gets a little emotional at times, but I'm very fortunate to work in a in a tremendous community, with great families and friends and they've kind of put their arm around us in a lot of different ways."
"It isn't easy to get here let alone cut down the nets we're very blessed in our community with our kids and our parents and our work ethic, are we perfect? No, but our kids worked really hard, and they deserve this success," Sagester concluded.
Next up for the Patriots is Harvest Prep a team the Patriots defeated in their historic 30-0 run in 2015 when Colton Linkous made a last second shot for the state championship.
They will meet on Wednesday, March 8th at 5:30 pm at Trent Arena in Kettering.
Box Score
Score By Quarter
Tri-Village       13…08…17…22 – 60
Greenview      10…12…10…18 – 50
Team Scoring
Tri-Village:   Delong 3, Suggs 16, Printz 7, Finkbine 22, Cook 4, Keating 6, Call 2 – 60
Greenview: Erisman 4, Williams 4, Witt 8, Myers 8, Caudill 14, Allen 10, McKinney 3 – 50
0