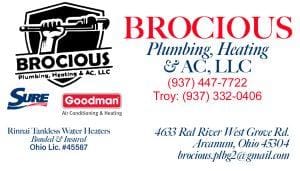 Seventy-seven years ago tomorrow, our parents, Lee Jr., and Bea (Riffell) Moody, were married and went on to become the parents of us four siblings, who helped them in getting their many grandchildren, great-grandchildren, and great-great-grandchildren.
Them celebrating their anniversary yearly ended six years ago upon Dad's death. He passed on July 20, 2016, just 47 days from what would have been their 71st anniversary.
Yes, their anniversary is Sept. 5, 1946. Dad, a U.S. Army veteran and a long-time employee of New Idea in Coldwater, would have turned 90, 16 days later.
All of this because they fell in love and boy, are we glad they did. I have talked about them a time or two over the years, and they met at the Great Darke County Fair in the 1940s (don't ask me the exact year) because I was not there.
Despite all that, we had wonderful parents and couldn't have gotten two better people to take on this challenge.
They taught us to respect people, to love one another, and to be honest. I asked my son, Jamie, what he learned from them, and he responded, "Having morals and values and don't be afraid to fail."
And, Dad taught us all his work ethic. Mom worked also, but, of course, she did the housework and such, which was quite an undertaking. She had us first three children in two years. Can you imagine?
She loved mowing as well but could do almost anything. She built cabinets, did roofing projects, made flowers for her great-granddaughters' weddings, wall-papered which matched so well, made lots of creative dishes at mealtime, canned and froze vegetables and fruits, sewed our clothes, and wrapped the prettiest presents with her wonderful skills.
She probably did a lot more than that, but I don't have time to think about all of it because of my deadline and space.
Those talents didn't get passed on to me, I regret. Apparently, I listened to my dad more because I worked many, many years at the same place and am still in the journalism business on a part-time basis.
He worked for 46 1/2 years at New Idea and was forced to retire, which he didn't really want to do. But, he made it work.
It was a good life with them but a little difficult now without them. We miss them but know they are in a much better place.
Happy anniversary, Mom and Dad!
******
Jamie and I extend our condolences to the families and friends of Cheryl Slonaker Gilmore, Lucille Osterloh Schott, Dick Foureman, Joyce Ann Travis, Barbara Ann Bowman, and Irene A. Jones.
******
Please pray for these people: Kenny Norton, Katie Young, Mike Mayse, Greg Moody, Kelly Jo Eikenberry (kidney transplant) and son Allen (donor), Larry Linder, Steve Waymire, Allison "Ally" Miller, Mary Lou Runner, Grace Boyd, Jason Stover Jr., Jeff Brocious, Jamie Knick, Dan Lockhart, Jenny Pitman, Nikole Baldridge, Chester Bryant, Melinda (Batten) Stacy, Michelle Young, Tommy Farmer, Margaret Hoening, Manual Macias, Kathy McNutt Dapore, Lester Beisner, Delores Beisner, Kermit Foureman, Chuck "C.W." Cruze, Mark Lovejoy, Connie Buemi Hodson, Michelle Grottle Wright, Judy York, Donald Booker, Dennis Leeper, Connie Stachler, Randy Heck, Ronnie Norton, Marie Schlechty, Jeremy "Jerm" Burke, Bev Brumbaugh, Gary Eichler, David Pretzman, Clinton Randall, Linda Lore, Ralph Byrd, Doug Winger, Rusty Maloy, Debbie Mayse, Sonja and Dan Coppess, Jeanie Francis, Harvey Hinshaw, Bruce Kaiser, Amanda Mote, Gary Francis, Anthony and Theresa Grillot, Lee Everhart, Paul Gigandet, Doug Whittington, Tracy Pratt, Kinley Bernard, D'Arleen Waymire, Tish Hodson Shepherd, Zach Urbancic.
Also, Sharon Gamster, John Rimmer, Joan Keen, Carol Hemmerich, Sharon Hummel, Dave Hinshaw, Larry P. Fitzwater, Jim Thomas, Neal Gray, Michael Mowery, Kenny Edwards, Judie Hathaway, Della Burch, Ned and Brenda Wallace, Rick Marker, Randy Garrison,  Warren Menchhofer, Jannie Barrow, Kathy Gragorace, Danny Foster, Noella Combs, Becky Everhart, Becky Oliver, Jayden Martin, Stefani Priest, Steve Neff, James Enicks, Joann Freeman, Cathy Collins Peters, Donna Bixler, Linda Subler, Roger McEowen, Sally Burnett Ganger, Gloria Hodge, Jeff Baltes, Judy Hoffman and daughter Shelly, Cathy Melling, Scott Clark, and all of those who are suffering from other life-altering illnesses.
******
Happy birthday:
Sept 5 to Jill Walters, LuAnn  Boyd, Judy Cox, and Steph Helmke.
Sept. 6 to Charlene Thornhill, Kathy Boggs, Rose Wooten, and Traci Treon.
Sept. 7 to Tyler Martin, Kelly Overbay Williamson,Linda Mikesell-Schatz, Kendra Hess, Ginny Nieport, Karen Long and David Keiser.
Sept. 8 to Myron "Bud" Caupp (90), Craig "Cheese" Thompson, Eric Elliott, Keith Green, Mark Miller, Duke Gibbs, Roxann Barnes and James A. Sommer.
Sept. 9 to Cliff McCreery, Scott Labig, Diana Dickey Young, Dave Staver, Bob Mayo, Curry Setser, Jess Garwood, and (young) John Middleton.
Sept. 10 to Gerald Rhoades, Diane Hall, Stacey Reed, Cory Meadows, Lesley Subler Wentworth, Josh Hiestand, Teri Barga, Dustin Mangen, Jennifer Lovejoy, and Dick Brown.
Sept. 11 to Becky Shumaker, Denea Butts, Carolyn Kruckeberg, Jeanie Appleman, and Angela Johnson.
Happy anniversary to Paul and Rhonda Gigandet on Sept. 5; Ted and Karen Nealeigh on Sept. 6; and John and Roberta Westfall on Sept. 7.
******
Think about it: "It is surprising to find the great heights a person can attain by merely being on the level.." — Author Unknown