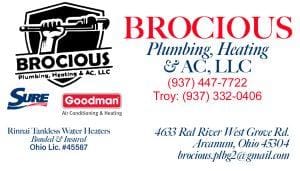 GREENVILLE–Andrea Hodge's dream of owning her own botanicals shop became a reality Friday night when a grand opening/ribbon-cutting ceremony was held at her business during First Friday in Downtown Greenville.
"I have been interested in herbalism for a long time and decided to open a store that I wished I had done when I first started," said the owner of the shop, known as Backyard Botanicals, a health and beauty shop located at 418 S. Broadway in  Greenville.
The herbal apothecary is an organic and wildcrafted bulk herbs store, featuring such products as teas, tinctures, hydrosols, essential oils, and books. She also has lotion sticks, whipped body butter, and lip balms.
In the future, she may be hosting classes.
"It's always been a passion of mine," she said. "Things started falling into place this spring. I explored, and it all worked out."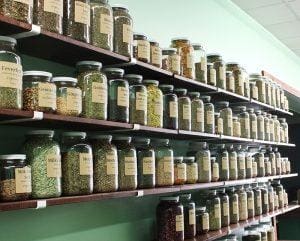 She even built the cabinets and shelves she has holding her supplies in the shop.
Where did she get that talent?
"From my dad," she said.
Signage in her shop, she said, was done by Wintrow Signs and Designs, and she's happy with them.
The sign inside reads "herbal-sustainable-awesome."
Her interest in herbs was sparked when she was having some health issues.
"I explored natural ways to deal with those issues," she said.
She learned so much about the medicinal aspect of the products that she is now studying to be a clinical herbalist.
"I made some of my own stuff, but I have a small yard. I grow weeds that most people try to kill, like dandelions and violets."
Hodge, a graduate of Ansonia High School and daughter of Cindy Mescher and the late Frank Hodge, holds a degree in landscape design from the University of Tennessee.
"Before this, I was working in the corporate world, the past year or so at Weaver Brothers in purchasing," she said.
Her shop is open from 11 a.m. to 6 p.m. Wednesday through Friday and from 10 a.m. to 4 p.m. Saturdays and 10 a.m. to 2 p.m.  Sundays, but is closed on Mondays and Tuesdays.
Those wanting to learn more may email: herbalist@thebackyardbotanicals.com