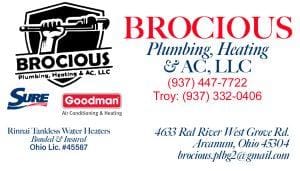 A special benefit is being held at the Versailles K of C Hall, 8440 State Route 47, Versailles, for Kara Didier and her family on Oct.  6.
"A Night of Giving" will feature a raffle, baskets, a 50/50 drawing, music (with the Hammer Jockeys), snacks, and drinks, according to a poster that is being shared with the public.
Doors open at 7 p.m. There will be a cover charge and donation of $10 per person,
For more information or to make a donation, contact Rose Schlater at 937-726-6482 or Erin Shaffer at 937-417-8539.
I have written a couple of articles about Kara, whose maiden name is Neff, and a 1995 Arcanum High School graduate. The first being about her double-lung transplant, which took place on July 18, 2012, and the second one was about her competing at the Transplant Games of America in Cleveland in 2016.
It has been reported that her transplant lungs are no longer viable after 11 years. She is on a list to get another set and is waiting at the Cleveland Clinic.
"Let us also be mindful of the family who will have to endure a loss for her to live," said a spokesperson. "This situation has created hardship for her family. We are trying to lighten their load (with the benefit). Let us pull together to help them in their time of need."
Those who plan to attend are urged to get there early or enjoy the homecoming football game and come over later to the hall. Kara has worked at the school and, as a photographer, has also taken senior and family pictures for many years.
Husband Doug has been a deputy sheriff for Darke County. They have three children and a couple of grandchildren.
In one of the previous interviews, Kara said she was officially diagnosed with Bronchiolitis Obliterans, which is also called BOOP.
"The "OP" part is 'Organizing Pneumonia,' but I've never had pneumonia," she said. "BOOP is also called 'popcorn lung' in which many popcorn factory workers have gotten this disease because of the chemicals in microwave popcorn. Said chemicals have since been removed from microwave popcorn products. Bronchiolitis Obliterans is actually the name for chronic rejection of the lungs. Both are confusing. I've always called my disease Bronchiolitis Obliterans because I obtained my disease from an autoimmune disease. Whereas BOOP, I believe, is obtained from harsh chemicals causing damage to the bronchioles and airways in a different way."
She said she has made friends with other BOOP people like her online over the years.
She also noted at the time that transplantees are living proof that organ donation can work.
Kara has always been cooperative in letting me write about her and her family.
May God bless her in this new journey!
******
Jamie and I extend our condolences to the families and friends of Carolyn Schultz, Mary Straszheim, Sandy Henning, and Carl "Von" Gilpin.
 
******  
Please pray for these people: Kara Didier, Michelle Coppess Hiestand, Katie Young, Mike Mayse, Greg Moody, Kelly Jo Eikenberry (kidney transplant) and son Allen (donor), Larry Linder, Steve Waymire, Allison "Ally" Miller, Mary Lou Runner, Grace Boyd, Jason Stover Jr., Jeff Brocious, Jamie Knick, Dan Lockhart, Jenny Pitman, Nikole Baldridge, Chester Bryant, Melinda (Batten) Stacy, Michelle Young, Tommy Farmer, Margaret Hoening, Manual Macias, Kathy McNutt Dapore, Lester Beisner, Delores Beisner, Kermit Foureman, Chuck "C.W." Cruze, Mark Lovejoy, Connie Buemi Hodson, Michelle Grottle Wright, Judy York, Donald Booker, Dennis Leeper, Connie Stachler, Randy Heck, Ronnie Norton, Marie Schlechty, Jeremy "Jerm" Burke, Bev Brumbaugh, Gary Eichler, David Pretzman, Clinton Randall, Linda Lore, Ralph Byrd, Doug Winger, Rusty Maloy, Debbie Mayse, Sonja and Dan Coppess, Jeanie Francis, Harvey Hinshaw, Bruce Kaiser, Amanda Mote, Gary Francis, Anthony and Theresa Grillot, Lee Everhart, Paul Gigandet, Doug Whittington, Tracy Pratt, Kinley Bernard, D'Arleen Waymire, Tish Hodson Shepherd, Zach Urbancic.
Also, Sharon Gamster, John Rimmer, Joan Keen, Carol Hemmerich, Sharon Hummel, Dave Hinshaw, Larry P. Fitzwater, Jim Thomas, Neal Gray, Michael Mowery, Kenny Edwards, Judie Hathaway, Della Burch, Ned and Brenda Wallace, Rick Marker, Randy Garrison,  Warren Menchhofer, Jannie Barrow, Kathy Gragorace, Danny Foster, Noella Combs, Becky Everhart, Becky Oliver, Jayden Martin, Stefani Priest, Steve Neff, James Enicks, Joann Freeman, Cathy Collins Peters, Donna Bixler, Linda Subler, Roger McEowen, Sally Burnett Ganger, Gloria Hodge, Jeff Baltes, Judy Hoffman and daughter Shelly, Cathy Melling, Scott Clark, and all of those who are suffering from other life-altering illnesses.
******
Happy birthday:  
Sept. 26 to Robert Riegel Hall, Rachel Falknor, Dawn Duncan, Brad Horsley, Allan Keaser, Abby Heck, Carey Smith, Mike Grillot and Cory Barber.
Sept. 27 to Julie Bragg-Lecklider, Linda DeMange, Sean Brookbank, Tyler Luce, Ruth Waymire Foreman, and Alan Booker.  
Sept. 28 to Allan Phillippi, Becky Baker, Barbara Heck, Stephanie Mestemaker, Ryan Anthony, Cody Brown, David  Gilpin, Crystal Reier Gibbs, Rachelle Hiestand Campbell and Teresa Hileman Miller.
Sept. 29 to Carol O'Connor, Nathan Riffell, LuAnn Dickey Baker, Danny Beam, Mike Waymire, Ivan Christian, Jerry Loyd, Courtney Boroff, Hannah Dynes, Patty Bunger, Shirley Billenstein and JW Hartzell.
Sept. 30 to Bill Thomas, Jason Young, Mary Ann Gump, Betty Teegarden, and Tammy Curtis.
Oct. 1 to Casey Marker, Thomas Shaw, John Clack, Georgianna Schafer Crawford, Bob Robinson, Gloria Saintignon, Carlton Conner, Tom Hollinger, Selena Burk, Jason Dirksen, Katie Cothran and Jackie Howell
Oct. 2 to Jene Riffell, Jerry Batten Jr., Dennis Butts, Dixie Ray, Elizabeth Heitkamp, Sam Androne, Dani Gibbs and Mark Wolfe.
Happy anniversary to Rick and Darlene Riffell on Sept. 26; Darick and Ashley (Fisher) Rose, Lance and Kari Bartrum, and Scott and Stephanie Helmke, all on Sept. 27; Kenny and June Miller on Sept. 28; and Joe and Angie Widener and Mike and Mary Dohme, all on Oct. 1
******
Think about it: "Somewhere near or far, a miracle is happening at this very moment." — Author Unknown