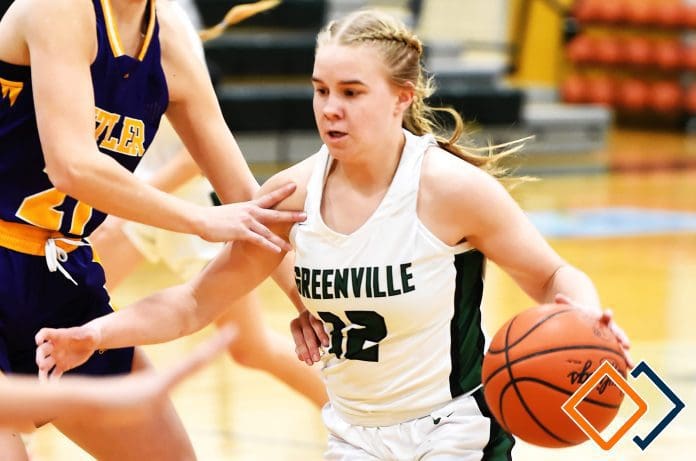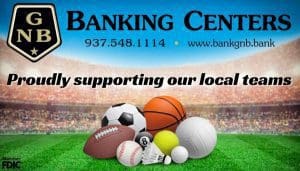 GREENVILLE – The Lady Wave dropped a 61-42 MVL matchup to the 14-2 Vandalia-Butler Lady Aviators in a tale of two halves.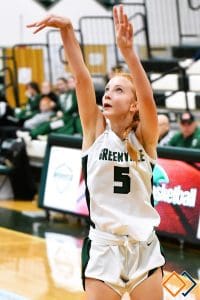 "Butler is very good offensively," said Greenville coach, Rachael Kerns. "We got into a little foul trouble and it shows the lack of depth we have. I know the score is what it is but Butler doesn't give up 42-points very often so I am proud of our girls for how we attacked. We had to earn every basket we had."
A slow start for both MVL teams had the Lady Wave getting on the board first for a 2-0 lead after one and a half minutes of play with the teams settling on an 11-8 Butler lead after one complete.
The MVL Miami Division leading Lady Aviators took advantage of a three minute scoring spurt to close out second quarter play outdistancing the Lady Wave with a 23-6 second period to lead 34-14 at the break.
"I told the girls at halftime we played too good of basketball for 13-minutes to not play good the last three minutes of the second quarter," Kerns stated. "Take the whole 32-minite game and we played good for 28-minutes of the game."
The Greenville girls battled back to take the third quarter by a point winning the third 14-13 with Butler holding a 47-28 advantage heading the final period of play.
The MVL teams played to a 14-14 fourth quarter giving the Greenville the second half by a 28-27 score but with the big second quarter the Lady Aviators earn the conference win.
"It was good to see a little bit of offense from our posts today," Kerns noted. "Nice to see use score, get some good looks. We'll continue to work."
The big difference in the scoring column came at the free throw line with Butler going 17-20 shooting a torrid 85 percent while the Lady Wave struggled at the line knocking down 3-12 for 25 percent shooting.
Greenville senior, the scrappy and hustling Skylar Fletcher paced the Lady Wave with 15-points, 4-points better than her season average.
"Give Skylar a lot of credit," Coach Kerns said. "She attacks, she did so well. She earned her 15-points tonight. She got to the rim just about any time she wanted to and we're working her back in after her injury so it's good see her back on the court. She's tough, we're tough. We pride ourselves in being tough and Skylar is definitely a leader when it comes to our toughness."
BOXSCORE:
BUTLER 61, GREENVILLE 42
BUTLER – N. Schoenherr 19, N. Smith 15, L. Dady 12, S. Bardonaro 12, H. Williams 2, S. Updyke 1 – TOTALS 19 17-20 2 61
GREENVILLE – S. Fletcher 15, G. Thacker 10, M. Pandey 6, L. Wright 4, J. Camacho 3, S. Loudy 2, M. Lind 2 – TOTALS 18 3-12 1 42
3-POINTERS
Butler 2 (N. Smith 1 N. Schoenherr 1}
Greenville 1 (J. Camacho 1)
SCORE by QUARTERS
11-23-13-14 61 Butler
08-06-14-14 42 Greenville