ANSONIA – The Mississinawa Valley Lady Blackhawks defeated the Ansonia Lady Tigers 80-38 in the annual Route 47 Shootout with eight Lady Hawks getting in the scoring column.
"We're trying to get ready for the tournament," MV coach Michael Paige said following the win. "There was a couple different things we wanted to do different today, try some things out offensively. We were able to do that today – working on boxing out, pushing the floor, trying to play fast."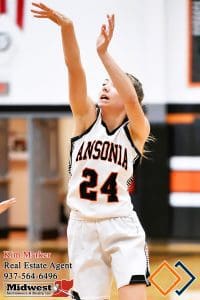 "Ansonia is a team that has a lot of guards, the twins (No. 11 Brenna Schmit and No. 24 Bailey Schmit) are really athletic and really fast so we're just trying to make it be faster than the other team at all times," Paige added.
Mississinawa Valley bolted out to a 27-5 first quarter lead in the non-conference matchup with six Lady Hawks getting in the scoring column.
The Lady Tigers battled back in second quarter play to put 9-points on the board while the visiting Lady Blackhawks were putting 14-points in the book to lead 41-14 at the break.
Period No. 3 had the Lady Hawks scorching the nets for 26-points with a running clock. The Lady Tigers got its biggest offensive output of the game with 14-points and a 67-28 score after three complete.
"Our last five or six games (scoring) has been spread around," Paige stated. "Before this game, our last five games we had a different person lead us in scoring every game so the benefit of when Taylee (Woodbury) wasn't hitting her shots, when her shots weren't falling is everybody else stepped up and scored more so right now that is starting to show where everybody is comfortable shooting the ball now."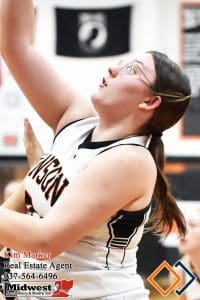 The fourth quarter went to MV by a 13-10 score giving the Lady Blackhawks a convincing 42-point victory.
Coach Paige continues to build a strong Lady Blackhawks basketball program while building the number of athletes in the program.
"Our JV team is pretty good and they are playing a lot and that is why we are dressing 15 girls every game because when we get those opportunities we try to get those JV girls in there to get them some varsity experience," he said. "You never know what is going to happen, injuries, foul trouble, whatever and the next person has to be ready so we are going to continue to dress 15 the rest of the year and whenever we can get them in there, just get them in.  We played 10 or 11 tonight but we have been consistently playing 12-13 girls every night."
Both teams buried seven 3-pointers including three each from Brenna and Bailey Schmit.
"We still have a lot we need to work on but for the most part we put up 80-points so that's good," Coach Paige noted.  "Defensively though we gave up a lot of open threes that we shouldn't gave up so we definitely got stuff to work on but I'm happy where we are headed so far."
Taylee Woodbury led Mississinawa Valley and all scorers with a game high 22-points.
BOXSCORE:
MISSISSINAWA VALLEY – T. Woodbury 22, B. Seubert 13, B. Price 10, I. Ojeda 10, J. Hoggatt 9, M. Townsend 8, S. Purdin 6, X. Lozano-Licona 2 – TOTALS 27 5-12 7 80
ANSONIA – Brenna Schmit 12, Bailey Schmit 11, B. Burk 5, O. Creager 3, A. Locke 3, R. Barga 2, L/ Kaiser 2 – TOTALS 6 4-12 7 38
3-POINTERS
Mississinawa Valley 7 (I. Ojeda 2, T. Woodbury 2, S. Purdin 2, J. Hoggatt 1)
Ansonia 7 (Br. Schmit 3, Ba. Schmit 3, O. Creager 1)
SCORE by QUARTERS
27-14-26-13 80 Mississinawa Valley
05-09-14-10 38 Ansonia