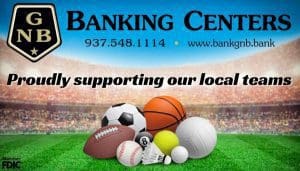 NEW MADISON – The Tri-Village girls basketball team completed a whirlwind week playing high level basketball against 2 state caliber teams one from Ohio and the other in Indiana, Bradford and Minster racking up 4 wins in 6 days all while dealing with the passing of Debbie Good Sagester in the Patriot family.
It started with the Lady Patriots traveling to Berlin about 3 ½ hours from home on Sunday afternoon to play a Monday morning game in the prestigious Classic in the Country against the #3 DIV team in state Toledo Christian.
The Patriots learned that afternoon about the passing of Rylee Sagester's grandma … the team pushed on and played superb handing Toledo Christian a 50-35 defeat.  Morgan Hunt was the game MVP scoring 15 points, 5 blocks, 4 assists.  She along with Kynnedi Hager who had 16 points were named to the Tournament All-Event team.
After a long bus ride home Monday night, they were back on the hardwood Wednesday matched up against Blackford the #3 – 2A team in the state of Indiana and came away with an impressive 60-42 win.  Rylee Sagester scored 25 points, 5 triples and Morgan Hunt had 22 points.
In both wins against state caliber teams Torie Richards held the opposing team's top scorers well below their season averages prompting Brad Gray to say, "If there was an award for defense she would be 1st team all-state."
Thursday the Patriots went to Bradford and saw Rylee Sagester score 35 points knocking down 10 triples breaking her own school record of nine in a WOAC win.  Torie Richards scored 15.
Friday the team attended the service and funeral of Rylee's grandma along with the entire Patriot community in support of Debbie Good Sagester.
Debbie was the wife to Mick Sagester and matriarch to the Sagester family; son Josh Sagester and Tri-Village boys basketball coach and daughter Brooke Clevenger.  Grandchildren Rylee, Trey and Shelby Sagester and Colton and Reece Clevenger.  Debbie's unwavering support, presence and genuine smile from the stands will not be forgotten.
Saturday the Patriots faced Minster and the team got off to a great start racing out to a 19-4 first quarter lead.
Minster adjusted to the pressure of Tri-Village and turned the table with their own pressure winning the second quarter 12-7 trailing 26-16 at the half.
The Wildcats continued to cut into the Patriot lead down 34-28 heading into the final stanza.
Tri-Village made a push and extended the lead back to 10 at 42-32 and seemed to be in control with five minutes to play.
Back came Minster quickly on a couple of triples cutting the margin to a bucket 43-41 with just under two minutes to play.
The Patriots would have to summon all their strength and fight in the final minutes to hold off a motivated Minster squad and it was Rylee Sagester stepping up and knocking down a big three to quell the Wildcat run.
The team then stepped up defensively with a stop and a steal by Torie Richards to finish the game with a 49-41 win.
I really like the way we started the game firing on all cylinders," Tri-Village coach Brad Gray said after the game.  But the second quarter and part of the third quarter we didn't play very well and obviously they went on a pretty good run, and I didn't like that," Gray added.
The Patriots weren't able to land the knockout punch despite opening up a 10-point lead in the 4th quarter and the Wildcats made one more charge.
That was until Rylee Sagester stepped up with a big triple to quell the 8-0 run by Minster to forge ahead 46-41.  She then made two free throws along with one by Torie Richards after a steal to secure the 49-41 win capping a long week to improve to 19-0 on the season.
The adversity the Patriots endured and overcame throughout the week is one they can be proud of and drew praise from coach Gray.
"I thought our response at the end of the game when things got a little bit tight, showed our capabilities in tough moments and I'm proud of the way we responded.  Our three seniors Rylee, Morgan and Torie maintained composure and showed leadership to get us through."
Rylee led the way with 16, Morgan had 15 and Torie 12.
"They are veterans, they understand how to respond in big moments and I'm happy how they're bringing the younger kids on the team along allowing them to be involved and not making the young kids feel like they're not allowed to try and make plays. But when tough moments arise, they definitely kind of take the game over where you need them too," Gray stated.
None of the plays could have been bigger than Rylee's step back three to give the PATS a cushion with a minute and half to play.
That shot was an emotional one for Rylee culminating a very long and stressful week.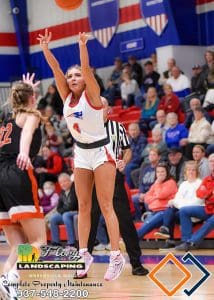 "The shot was open, and I took it, and I knew it was in immediately, then the thought of my grandma up on her feet cheering from above popped in my head … just like she had done  before," Sagester exclaimed.
"Whether we are up 10 or down 10 this team is going to fight till the end," Sagester added.
The team would make a few more big plays with Morgan hunt getting a block and Torie Richards a steal to help Tri-Village finish off the game for the win capping an unbelievable week, one that threw every obstacle it could, and one Rylee summed up best.
"Given the type of week it was having the diversion of playing 4 basketball games helped me and my family get through the week.  This is my home and I love everybody here, seeing everyone in the stands come out and cheer and share in these big moments, the type of support they give is unbelievable.  It's a week I know my grandma is proud of and I can't thank my family, my teammates and the Patriot community enough," Rylee said.
That unwavering support is just the thing her grandma has done for many years and her spirit will continue on just as it did during Rylee's big shot.
It shines through her son Josh Sagester who has built a solid and successful boys basketball program, through grandson Trey Sagester whose high school career began this year and through grandkids Shelby Sagester and upcoming players Colton and Reece Clevenger.  It's one we will get to witness for many years to come.