GREENVILLE – Greenville Lady Wave senior Tessa Fine signed her letter of intent to run cross country for the University of Findlay Lady Oilers while continuing her education with studies in physical therapy.
"I love the atmosphere there, I love the coaching staff and I love the team – they're amazing," said Fine. "The environment fit my character best."
Fine has a long cross country career that started well before competing at the high school level for the Lady Wave.
"Tessa started running with me when I started Healthy Kids Running way back when so she's running with me since she was itty bitty," said veteran Greenville cross country coach, Stephanie Lind. "We've had a long relationship together."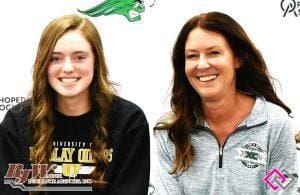 While competing for the Greenville, Fine was named All-MVL First Team her sophomore and senior seasons and All-MVL Second Team her freshman and junior years.
"It's hard to express how many times we see really positive things happen here at school but sometimes we don't necessarily focus on them. Today is one of those days where we can focus on a really great kid who is also a really good athlete, who is also a really good student, who's academic and a good community member," said GHS Principal, Stan Hughes. "It's fun to have days like today where you get someone like Tessa, get to promote how well she has done and where she is going in her future. That is a great thing for her and it's a great thing for Greenville City Schools."
Coach Lind expects Fine to compete well for the Lady Oilers cross country team.
"She's a hard worker, she puts in all the effort and she does everything that is asked of her," Lind stated. "She'll be a good contributor to the team and a good teammate."
Fine thanked those that helped her reach her goal of competing at the next level stating; "I would like to thank all of my coaches, all of my family and especially my cross country team and family."