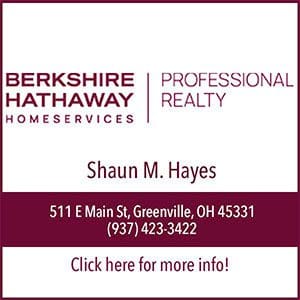 August 17, 6:29 am. P.O. Alan Smith was dispatched to 401 Anderson Ave in reference to a theft from a vehicle. Victim Cody Davis said while the vehicle belongs to his employer, all the tools inside belonged to him. Davis stated he had approximately $6,000 worth of power tools and HVAC equipment in the van that was stolen. Smith has no suspects at this time.
August 18, 1:43 pm. P.O. Trenton Spradley was on patrol when he observed the 2005 Chevrolet Equinox traveling westbound in the 200 block of East Water Street. Spradley got behind the vehicle, and it turned into the Maid-Rite parking lot on North Broadway. He checked the vehicle's registration and discovered it expired on 8/14/2023. After the driver failed to use a turn signal, Spradley initiated a traffic stop. When asked to step out of the vehicle, the driver David Atkinson drove off and began fleeing from Spradley. Due to having identified David, having the license plate of the vehicle, and David's reckless driving Spradley terminated the pursuit. No persons or property was harmed as a result of this incident. The incident will be forwarded to the Darke County Prosecutor's offices, and charges are pending.
August 19, 12:48 am. P.O. Alan Smith was dispatched to the Rural King parking lot in reference to a motorcycle accident that took place in the parking lot. Upon arrival, Smith discovered the operator of the motorcycle had left the area but left the motorcycle. It was later discovered the defendant, who lives with the owner, had taken the motorcycle without permission. The defendant wrecked it and sustained leg and head injuries. The defendant was located at Martin Ave. The defendant was transported to Wayne Hospital for his injuries. The defendant appeared intoxicated and was later charged with OVI and operating a motorcycle without an endorsement.
August 19, 7:34 pm. P.O. Aaron Hall was dispatched to Walnut St. in reference to a theft complaint. Dispatch advised a female took a pair of shoes out of the laundry room to Walnut apartments and that the victim's boyfriend was following her. Carla Wintrow was issued a citation for theft, advised of her court date and time, and was released. The shoes were returned to the owner.
August 20, 5:11 pm.  P.O. Ben Conley initiated a traffic stop in the 1200 block of Russ Road. The driver was arrested in reference to having an active arrest warrant.
August 21, 3:18 pm. P.O. Archer was dispatched to Washington Avenue in reference to a report of a theft of tools. Victim Tyler Stephens stated ehe left work for the day leaving his tools inside the locked apartment and when he returned to work $800 worth of tools were missing form the apartment. There are currently no leads or suspects in this case. This case should be considered closed.
August 21, 6:40 pm. P.O. Ben Conley responded to Southbrook Drive in reference to a welfare check on Kayela Trittschuh. Nobody has been able to make contact with Kayela, due to suicidal comments a "Be on the Lookout" was sent out to surrounding Counties to stop and check her welfare if she is located. After not locating Kayela by 9:00 pm, she was entered into LEADS/NCIC as a missing person.
August 21, 10:07 pm. P.O. Ben Conley responded to Russ Road Casey's in reference to a theft. Four customers used fraudulent coupons to purchase $330 worth of Newport for $30.
August 23, 3:38 pm. P.O. Trenton Spradley observed a vehicle on Tiffin street and recognized the driver as Tricia Henninger and the passenger as Glen Julian. After checking LEADS/NCIC, Spradley found Henninger had no valid driver's license. While performing a traffic stop, due to Glen's extensive violent criminal history, including several convictions for burglary, assault, felonious assault, disorderly conduct and having listed cautions for being an escape risk, previous physical altercations with LE, and having violent tendencies, Spradley performed a pat-down search of his person for weapons. Spradley felt the knife and a plastic bag that he immediately recognized to be illegal drugs in Glen's pants pocket. When I reached into Glen's pocket, Glen stated to me that he had methamphetamine, marijuana, and a glass pipe in his pockets. Spradley then issued Tricia a citation reference for driving with no license, and Gale a citation reference for wrongful entrustment. Gale and Tricia were advised of their court dates. The unknown substances and the glass pipe were placed into property. The crystal-like substance will be sent to the BCI laboratory for analysis.