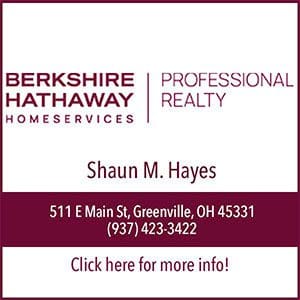 August 1, 11:25 am. PO Trenton Spradley responded to Gray Avenue in reference to a theft complaint. The complainant stated that his mother's prescription was picked up by someone who did not have permission to pick up the prescription and was never delivered.
August 3, 9:26 am. PO Matthew Ganiron was dispatched to E Russ Rd in reference to a wanted person. Kevin J Foster was found in his apartment and was placed under arrest and transported to the Darke County Jail, where he was incarcerated on his warrant for failing to appear on an original charge of fictitious plates as well as a new charge of obstructing official business.
August 3, 7:02 pm. PO Kreitzwe was dispatched to Front Street in reference to a theft. The complainant stated that a pair of $120 headphones in a green case was taken from her house. After checking the area where tracking had pinged the headphones and not finding them, a report was taken.
August 4, 7:22 pm. PO Sam Conley responded to the intersection of Broadway St. and Main St. to assist Greenville PO Hall with apprehending Shawn Martin, who had an active felony warrant through Darke County Sheriff's Office in reference to dangerous drugs with no bond. Martin was transported to Darke County Jail to be held on the warrant.
August 5, 2:20 pm. PO Same Conley responded to W Main St, GPD, in reference to a wanted subject, Issac Lane, who requested to turn himself in on an active arrest warrant through the Greenville Police Department. Lane was transferred to the custody of jail staff to be held on the warrant.
August 7, PO Aaron Hall was dispatched to GPD in reference to a theft not in progress. James McDade advised that he believed his black Smith and Wesson 9mm M&P Shield was taken from his car's glove box while it was getting an oil change at Drew's Automotive. Hall spoke with Jason Dew, who advised that they would not go into the glove box unless they needed into it for work and that they would not have opened the glove box for McDade's oil change. The pistol was entered into LEADS/NCIC as stolen.
August 8, 9:42 am. PO Archer was dispatched to Shawnee Street in reference to a report of a forgery. Through investigation, it was found that the original check written to the Versailles athletic department had never made it to its intended location in Versailles, Ohio. It was also found that the check had been altered electronically or by computer with the name Gustavo Hernandez as the recipient of the check. The total amount of the check had also been altered digitally to read $18,500.00, instead of the original amount of $500.00. The check was signed
by the named recipient of the check before being cashed. An address was added to the bottom of the check for the named recipient of 7210 Hager Way, Orlando, Florida 32822. There are currently no further leads in this investigation or the location where the check was taken from.
August 9, 12:19 pm. Sgt. Benjamin Boyer assisted officers in reference to an injury accident in the 1300 block of Sweitzer Street. While investigating the accident, one of the drivers was found to have an active warrant.
August 11, 8:57 am. PO Trenton Spradley responded to 631 Wagner Avenue;
Darke County Job & Family Services reference found property. Upon Spradley's arrival, he learned the complainant, Damon Cooley found a black purse in the parking lot behind the building. He checked the purse and found several credit and debit cards that each belong to Kelly Foster. He left a voicemail on Kelly's most recently listed phone number. He has prior knowledge that Kelly has recently moved to Kentucky. The purse and contents were placed in GPD property.