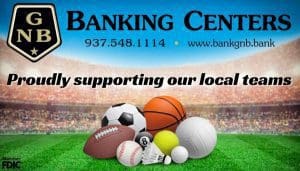 GREENVILLE – The Green Wave varsity boys basketball team dropped a non-conference game to the visiting Eaton Eagles 57- in Saturday night action.
The visiting Eagles took the opening quarter 14-7 including two 3-pointers and knocked down five triples in the second quarter to take the period 19-15 sending the teams to the break with Eaton leading 33-22.
Eaton extended its lead to 46-28 after three quarters outscoring the Wave 13-6.
Greenville battled back in the fourth with a 25-11 advantage over the visitors only to come up 4-points short on the night.
Ramy Ahmed led Eaton and all scorers with a game high 23-points.
BOXSCORE:
EATON – R. Ahmed 23, G. Miller 10, P. Orr 7, C. Janney 6, L. Orr 4, T. Harding 3, C. Back 2, B. Miller 2 – TOTALS 12 6-15 9 57
GREENVILLE – J. Demange 13, D. Hamilton 10, E. Brenner 10, H. Livingston 10, J. Chick 6, TJ Barr 2, C. Drew 2 – TOTALS 15 5-7 6 53
3-POINTERS
Eaton 9 (R. Ahmed 3, G. Miller 3, C. Janney 2, P. Orr 1)
Greenville 6 (J. Demange 2, E. Brenner 2, H. Livingston 2)
SCORE by QUARTERS
14-19-13-11 57 Eaton
07-15-06-25 53 Greenville