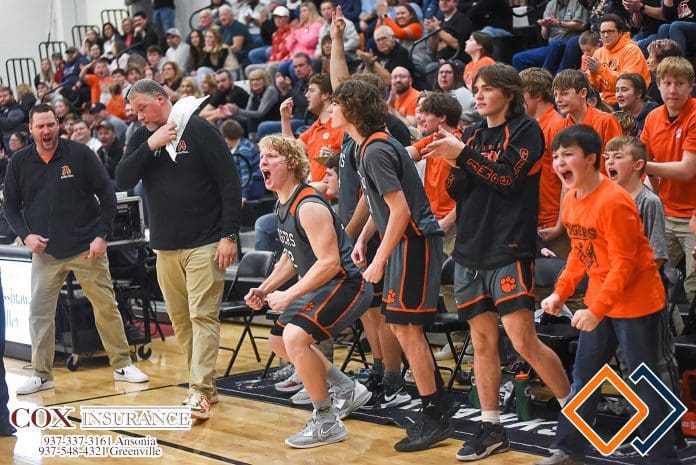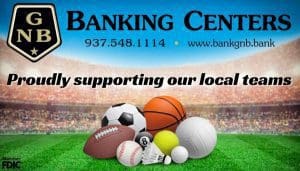 UNION CITY – Ansonia halts five-game skid while snapping a three-game Mississinawa Valley win streak.  The Tigers broke open a close game at the half on all 20 of Garrett Stammen's second half points for a 62-42 WOAC victory.
"We've been on a rough stretch here and it's good to finally get that win," 1st year coach Tony Overton said.
"This is my first time being a part of this rivalry. When I was at Ft. Recovery, even though it was close in proximity, it wasn't really a rivalry. But when it comes to Ansonia and Mississinawa Valley you can throw the records out the window, you can throw talent out the window it's going to be a long fight and it was for three quarters," Overton added.
In a packed house for both sides and a gym sweltering hot with fans running, Mississinawa came out firing as Dylan Wehrkamp and Conner Shimp were good from long range along with four points inside from Matt Pisano gave the Blackhawks a 13-10 first quarter lead.
But the Hawks cooled off in the 2nd quarter scoring just 6-points while Ansonia got a boost from Exzaviar Moody who scored 9 of his 10 points in the game to give the Tigers a 23-19 lead at the break.
"Moody stepped up big tonight, we missed him when he was out the last two games, and we need contributions from others.  If you look at our wins, and look in the score column, you know we spread the wealth pretty well.  If we're top heavy with just Schmitmeyer and Stammen scoring, yeah, we're going to compete … but at the end of the day we're going to run out of gas," Overton stated.
Stammen didn't score in the first half, but he would come out aggressive in the 3rd quarter scoring 10 points to help the Tigers expand their lead to 38-27.
Mississinawa struggled in the 3rd quarter finding foul trouble with key guys and not making shots falling off the pace.
"You got to hit shots. The third quarter was key in this game if we make shots we're in the game.  If you're not making shots you got to get tougher on defense," Mississinawa coach Nick Hamilton said.
Mississinawa fought valiantly in the final period and got a boost from Drew Anguiano scoring 9 points by aggressively going to the rim, but Ansonia was just a bit better down the stretch.
It was another big quarter for Stammen who scored 10 more points and had a game high 20 all in the 2nd half.  Schmitmeyer added 5 points to go along with 5 in the 1st quarter for 10 points and Exzaviar Moody had 10 all in the 1st half as the Tigers rolled to a 62-42 WOAC win.
Nine Ansonia players scored in the game pleasing coach Overton.
"When we win, that's what happens, everyone is scoring, we preach it every day in practice.
Our biggest issue is we don't trust each other and sometimes we don't trust ourselves.  I've been on Jakob Creager all year long, he's a big, strong athlete, and he gets the ball in the paint then passes it back out to a kid that's expecting him to make a layup.  We've got to eliminate that," Overton concluded.
Matt Pisano and Drew Anguiano fouled out for Mississinawa, but Anguiano still led the way with 11 points. Having two of your seniors unable to play a whole game is a bit frustrating for coach Hamilton.
"We're trying to become a little more disciplined each game and we're turning the corner the boys are playing hard and giving us a lot of effort, we just have to clean some things up," Hamilton stated.
"To be honest, I think they (Ansonia) wanted it a little bit more than we did tonight we had a three-game win streak going, but tonight shots didn't fall for us," Hamilton said.
The two teams meet again in the RT 47 Shootout on Saturday January 21st at Ansonia.
"All we can do now is try and get redemption in two weeks, hopefully the results a little bit different," Hamilton concluded.
Ansonia improved to 5-7 overall, 2-4 in the conference while Mississinawa falls to 4-7, 2-4.
BOX SCORE
SCORE BY QUARTER
ANS     10        13        15        24 – 62
MV      13        06        08        15 – 42
TEAM SCORING
ANS: Reichert 8, Creager 3, Hemmerich 4, Stammen 20, Schmitmeyer 10, Barga 2, Bowman 3, Henderson 2, Moody 10
MV: Gower 1, Woodbury 8, Pisano 7, Loy 3, Anguiano 11, Wehrkamp 8, Shimp 5