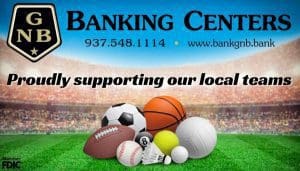 ARCANUM – The Arcanum Boys Basketball team came up with a big win Saturday night over a solid Northridge basketball team 58-53 to help make a memorable night for two new Athletic Hall of Fame Inductees Ed Baker and Angie "Cates" Beckstedt.
Ed Baker is a 1964 graduate of Arcanum High School where he has been influential coach for a span of 13 years beginning with his first season in 2002. His coaching career included eight seasons of Junior High Girls Basketball, two seasons of Junior High Boys Basketball, two seasons of High School Baseball Assistant, and one season of High School Girls Basketball Assistant. As head basketball coach of the junior high girls and boys, Coach Baker had an overall record of 117-46. (JH Girls Basketball 96-38 | JH Boys Basketball 21-8) Highlighted with a perfect 10-0 league championship JH Girls Basketball season in the 2004-05 season.
Prior to Ed's coaching career he dedicated 47 years to the workforce with 38 of those years being at Alma/Spartech Plastics. Upon retiring from the workforce Ed volunteered as a youth coach in Arcanum's youth baseball and softball leagues.
Ed currently resides in Arcanum, Ohio with his wife, Judy, of 59 years where they raised their three children: Barb Eilerman, Brenda Besecker, and Donnie Baker. They have enjoyed supporting all nine of their grandchildren and eight great grandchildren throughout the years. Both Ed and Judy currently attend Greenville Missionary Church. Coach Baker's legacy at Arcanum was not just defined by his success of the teams he coached, but as most of his former players would say it was his positive and caring attitude that had a lasting impact on them. His influential leadership and dedication at the junior high level has served as a very important asset to many successful high school programs at Arcanum.
Angie (Cates) Beckstedt is a 2009 graduate of Arcanum High School who earned 12 varsity letters as a scholar athlete. She participated in cross country, basketball, and track. As a standout three sport athlete, she was named all-conference 4 years in cross country, basketball, and track.  Highlights of Angie's cross-country career include conference most valuable runner of the year all four years, team District Championship in 2005, and a 19th place finish at the 2005 OHSAA State Cross Country meet where she broke the school record and held it for 11 years.
Throughout her basketball career Angie received recognition at many levels. She was named as athlete of the week multiple times through the local media, and honorable mention All-State. During her junior and senior seasons Angie led her team in points, assists, and steals.
She Also led her team to a Conference Championship in the 2008-09 season.  Angie was named most valuable runner of the year all four years during her track career at Arcanum. She set the mile record in 2005 and held it for 12 years.
Due to her many accomplishments both in athletics and academics Angie received the Arcanum Outstanding Girl Athlete Award her senior year.
After her high school career Angie continued playing basketball at Edison Community College for two years where she started and led the team in steals, and assists. She was #4 in the nation for assists during her sophomore season. Upon graduating with her associates from Edison she transferred to the University of Northwestern Ohio where she continued her basketball career.
Angie currently holds records for steals in a game, steals in a season, assists, free throw percentage, minutes played, and games started at UNOH. Angie received her Bachelor of Science with a major in business.
After college, she pursued her dream of becoming a cosmetologist and independent contractor. Angie is currently a cosmetologist at All for You Salon in Covington where she also resides with her husband Brian and three children: Owen, Remi, Rhet and their dog Sofie.
Congratulations to the newest members of the Arcanum Athletic Hall of Fame.