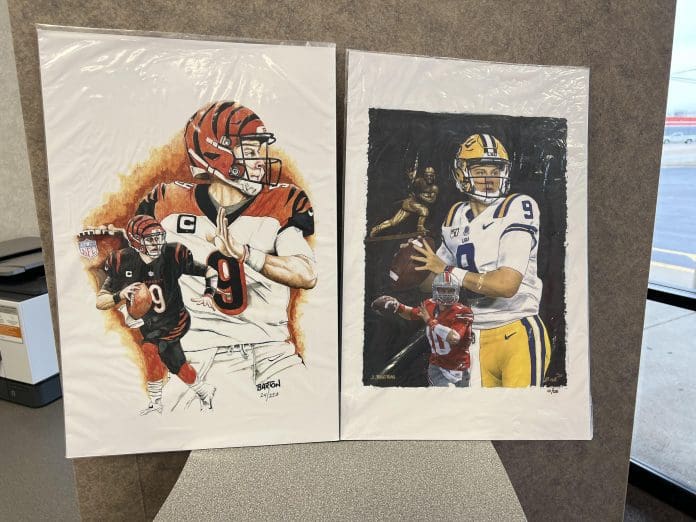 UNION CITY—The Union City Browns Backers are once again raising money to donate to EverHeart Hospice.
The Brown's Backers are a 45-50 member strong, Cleveland Browns fan club. The club, founded by Scott Stahl in April 1987, is a way for local fans to promote the team, and raise funds for local charities.
The backers are raffling off two prints of Cincinnati Bengals quarterback Joe Burrow. One print in his alma mater Louisiana State University uniform and another with his Bengals uniform on.
Stahl said they're raffling off Bengals prints because they try to appeal to the masses.
"I've had Brown's fans ask me, 'Why are you selling Cincinnati?'" He said. "And again, it's to raise money in support of EverHeart."
Last year, the club raised $1,400 for EverHeart Hospice. Stahl said he believes with this year's raffle the club will raise even more.
In the past, they've also raised funds for the Humane Society and Journey Home of Winchester, Ind.
The club is holding the raffle from now until mid-March, Stahl said.
Anyone is welcome to join Browns Backers, Stahl added. The dues are $15 for a single member and $25 for a family (includes children 15 and under).
If anyone is interested in joining the club, entering the raffle, or donating, call Stahl at 937-414-9772.