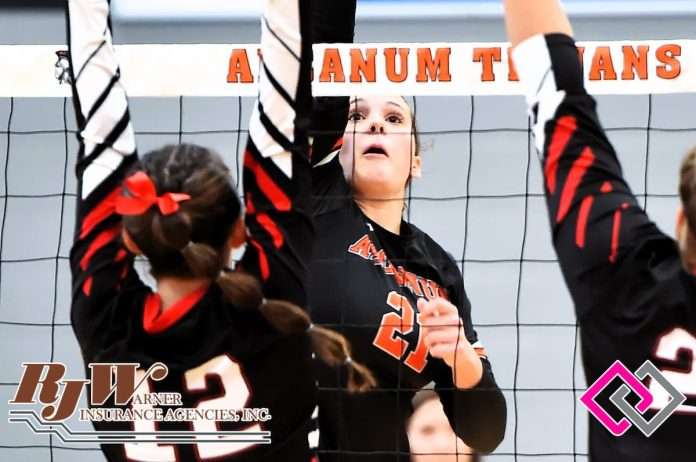 ARCANUM – The Mississinawa Valley Lady Blackhawks traveled to Arcanum to take on the Lady Trojans with the WOAC lead on the line. The Lady Hawks brought a 5-1 conference record to the match and Arcanum stood at 4-1 in league play when the night began.
"My girls were not afraid to throw their bodies on the floor tonight, all of them, not just my back row," said Arcanum coach, Jacie Holman. "All of my girls fought for every single ball tonight."
"I'm proud of my girls," she continued. "They have done an exceptional job. I don't think we're anywhere near the end, we're only improving every game and I hope this is just the beginning for Arcanum Trojans."
When the dust settled, Arcanum took advantage of a 3-1 Tuesday night WOAC win over the Lady Hawks to stand at 5-1 creating a logjam at the top in conference play with Preble Shawnee 5-1,  Newton Lady Indians 4-1, Mississinawa Valley 5-2 and Franklin Monroe 4-2.
"This sets the standard for where we are going for the rest of the season," Holman stated. "We're not out of the clear yet. We still have Franklin Monroe and there are some other tough teams we're going to face but I would like to think we are in a really good spot right now and we kind of set the tone as what our end results are going to be hopefully."
The opening set had the teams tied 4-4 before Arcanum went on a 7-1 run to lead 11-5 with the MV bench calling a timeout. Holding an 11-6 advantage, the Lady Trojans used a 5-0 run to get its first double digit lead of the night, 16-6.
With Arcanum leading 17-7 the Lady Hawks closed out the first set with an 18-2 scoring run to win the first set going away by a 25-19 score.
"Our first game is going to be our big struggle all season," Holman stated. "The girls come out and they get a little too comfortable, or they're not ready, they're not quite focused so we have to do a better job of coming out and just getting on top of teams right away."
The Lady Trojans settled in with a 5-1 second set lead and got its second double digit lead of the night at 13-3 with the Lady Hawks putting together a 13-12 run to close out the second set with Arcanum earning a 25-16 win knotting the score at 1-1.
"I'll give Mississinawa a lot of credit, they are a good team," said Holman. "I told my girls we kind of went into cruise control in a couple of those sets tonight and with a team like Mississinawa you cannot let them do that because that gives them the momentum and they come back fighting."
Arcanum got its first double digit lead of the third set with the board showing 17-7. Leading 22-8, the Lady Trojans closed out third set play on a 4-0 run to win 25-8 and lead 2-1 in the WOAC match.
The fourth and final set had the teams tied early 3-3 and 4-4 before Arcanum would earn its first double digit lead of set No. 4 at 16-6 on its way to a 25-14 win.
The Lady Trojans strong serving gave up just two service errors on the night while collecting nine aces bringing praise from Coach Holman.
"With us having such aggressive serves I'll take it," Holman said. "We do spend a lot of time on serving because we think that's a lot of our strength and it clearly shows. That's what's winning us games right now. The serving is working and that is what is getting us those out of system balls to come back and my blockers are getting touches and are able to run a quicker offense."