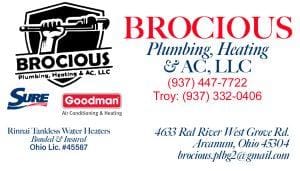 ANSONIA–Paul McCleskey's retirement from the Ansonia Volunteer Fire Department was honored Saturday afternoon with a party at the firehouse.
McCleskey, who worked as an EMT for both the Union City and Ansonia departments for a total of 18 years, stepped down as fire chief in Ansonia two years ago but stayed on the department.
Succeeding him at the helm of the Ansonia Fire Department was Chris Widener, who began serving as captain two years ago.
Paul's reason for stepping down is to help take care of his wife, Renea.
"Renea had major surgery on May 19, 2021," he remarked. "She has broken her back lifting patients as a paramedic, resulting in nerve damage and loss of feeling in her legs. Following the surgery, she required quite a bit of care. Still, she uses a cane in the house and a wheelchair when out. I felt I needed to be with her. Gradually, I reduced my time at the fire department until I realized I really couldn't do both. I talked to the council, explaining my reasons, and stepped down."
He also noted that his wife suffered a heart attack on her 38th birthday in 2004 and a second heart attack a few days later. It changed his life in many ways.
"I kind of panicked. I didn't know what to do without training," he said. "I felt helpless. Renea had worked at Union City for a while, and I visited often to spend time with her. She worked long hours and wasn't home, so visiting helped. When I would visit, it never failed; the department would get a fire or EMS call. It was a wild coincidence! While I would visit, I got to know many of the members and officers at Union City. They were a great group with a consistent feeling of family and camaraderie that I liked. When they had big fires, I would go and help with making coffee to take to scenes. I got pretty good at it even though I didn't drink coffee at the time! I'd help wash engines and ambulances to get them back in service."
He said during these visits, the officers always asked him when he was going to apply.
"I always declined. My go-to answer was, 'It's her bag. Not for me," he recalled. "I slowly got an interest in fire, and I realized that if I got the EMS training, I would know what to do if something happened to Renea again. I took the application finally and filled it out, thinking they would never hire me with no experience even close to fire. I didn't hear anything, and after a few weeks, I thought they decided I wasn't a good fit. A few weeks later, Renea was working a shift and was given a staff roster. She called to ask if I wanted to know my unit number. I was shocked! When I went to fill out new hire paperwork, I was told that the officers had voted to hire me and presented my name to the council for approval. I was hired without a formal interview."
Among the former co-workers attending were Doug Wright and Greg Miller of Union City.
"Doug is the one who got me into this," Paul said.
As noted before, Paul began his fire and EMS career at Union City Fire and continued it when he joined Ansonia. He served as captain, assistant chief, and acting chief before accepting the chief's position.
In Union City in 2005, he became certified in fire and EMS, and in 2009, for both Ansonia Fire and Ansonia Rescue.
After he asked to step down, he agreed to stay on as chief until they found a replacement.
"That turned out to be Chris Widener," he beamed.
Paul's most memorable fire runs were the Armstrong Cabinet building fire in Union City, Ind.; his first two fires as chief were barn fires and The Versailles Inn fire; and one more run that will be remembered as the last run he made was with oldest grandson, Parker Kaffenberger.
"I stayed on as a firefighter with one goal…to fight a fire alongside Parker, who had grown up with his grandparents being involved with fire and EMS," Paul said. "Parker had that passion from an early age. In 2021, Parker became certified as a volunteer firefighter and is currently studying to be an EMT. We couldn't be prouder of him. On October 22, 2022, that goal was reached. I fought my last fire with my grandson at my side."
Paul also indicated he was fortunate enough not ever to get injured.
The 58-year-old McCleskey is still working at his full-time job with Arch Dayton (the former Voisard Tool) as he has for the past 35 years.
Born in Chicago, Paul said his family moved to Rockford, Ill., when he was 2 or 3. His parents were Jerry and the late Brenda McCleskey.
He also has a sister, Vicky Dilbeck of Illinois, who, along with her daughter, Alana, and her family, surprised him with a visit at the retirement party.
Married to the former Renea Turner on March 30, 1987, he said they met when he was stationed in Fort Hood, Texas, with the Army.
"I was a combat engineer initially, stationed at Darmstadt, Germany, before moving to Fort Hood to finish my active duty time," he reported. "I joined right out of high school. Renea was originally from Darke County and had moved to Fort Hood with her former husband. I met Renea after they divorced through mutual friends. We celebrated 36 years this year."
The couple are the parents of daughter Ashley McCleskey; son Paul "PJ" McCleskey Jr. and girlfriend Nicole; and daughter Victoria "Tori" and husband Matt Smith.
Their grandchildren are Brooklyn Kaffenberger, Parker Kaffenberger and girlfriend Ali, Laurenz Steward, Harper Whiting, Finley McCleskey, Harrison McCleskey, Iris Smith, and the late Jaxin Steward. And there is also a great-grandson, Thayer Kaffenberger.
"We moved to Ansonia in May 1996," Paul said. "At the time, Renea's parents lived two blocks away, so it was nice to have the grandparents close to the kids. Renea's dad was a police officer and then police chief in Ansonia. Now, Renea's mom passed away in 2017. Her dad is remarried and lives in Sidney. Her parents are Roy and Dede Turner and the late Shirley Turner."
His retirement, in addition to caring for his wife Renea, will probably focus on his main hobby, photography. He also likes grilling and smoking food, calling that his passion.
"I enjoy learning new techniques," he said. "I've also started making homemade pizzas with my pizza oven. I make the dough from scratch and am experimenting with different breads, too!"
As for photography, he got started while in high school.
"I took a photography class learning the basics of photography," he remembered. "From there. I practiced my skills by taking pictures of family. My wife, kids, and grandchildren were always favorite subjects. Through the years, I've taken photos for friends…family photos, senior pictures, and weddings. We photographed a close friend's wedding and have photographed each of their kids' weddings too. Renea has a lot of flowers in our yard. I take care of them for her now and enjoy taking stills of the flowers, bees, and hummingbirds that visit the yard. I've slowed down doing photography for other people and am only doing a wedding for close friends once in a while."
Fellow firefighter Cory Meadows estimated between 160 to 180 people attended the retirement event over a three-hour time frame.
It ended with his last ride home in a fire truck.
"I'd like to take a moment to thank the Ansonia Volunteer Fire Department for the retirement party and last ride. Thanks to everyone who attended the party and those who left a text or message. I'd also like to thank my kids, grandkids, sister, niece, and family for making the trip to attend. This means a great deal to me," he posted on social media.
He said the celebration was sort of a surprise.
"I thought maybe a cake and 'a see ya around'," he concluded. "So the turnout was a welcome surprise. It was great seeing some mentors from the beginning of my career in fire."