After noticing companies interested in moving into Darke County and Greenville but unable to due to a shortage of warehouse and manufacturing space, Geoff Surber decided to take matters into his own hands and build a new spec building.
Available for lease, the new spec building at 1724 Kitchenaid Way is being constructed by Ferguson Construction. This building is a class A Steel Industrial building and will offer an area of 36,000 square feet with 1000 square feet of office space and restrooms, a clear height of 26 feet, and the ability to expand behind it.
"I built it to be all-purpose," Surber said. "It can work for either warehousing strictly or manufacturing; you can do either. For example, it has heavier floors than anybody would need for warehousing, but for manufacturing, you might need the heavier floors."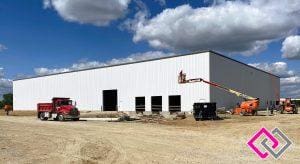 A lot of planning and thinking for the future went into this project. The site behind the building is already graded, so if the building needs expansion, most of the work is already complete. Carving out just a piece of Surber's farmland allows him to maintain farming while seeing how the project evolves. The location also gives quick access to US RT 127 along with the north end of Greenville.
"I own a lot of commercial, industrial places throughout town, warehouses, retail places, manufacturing places," Surber said. "Basically, there is nothing available in town. That's why I'm doing this. If this works, I own all this land and can build another warehouse next to it. I've already done a lot of site work and a lot of drainage in this project to offset some of the costs on a second one."
The new spec building is built specifically to accommodate a wide variety of potential tenants. Surber hopes that the smaller building will be able to bring in some smaller businesses that can't afford the larger warehouses.
"I caught Jobs Ohio's attention while doing this," Surber said. "They asked me about this warehouse specifically because, apparently, no one has built anything with this clear height but this small. Plenty of buildings have the 26-foot clear height, but they are all monsters, 100,000 square feet, 200,000, or even 600,000. No one is building this clear height in a 36,000 square foot."
After over a year of planning, Surber gave them the go-ahead to start building at the end of April and early May. The project looks to be completed by mid-November, and Surber is currently advertising and looking for a tenant.
"This has been in planning now for about 14 months," Surber said. "From when I started it to getting approval from the state. There was an awful lot of planning between Ferguson and me on how this thing should be put together, the best, most cost-effective way to do some of the things that I felt were non-negotiable."
Surber's goal with this project is to bring new businesses and jobs into the town.
"It's just me individually trying to do a project to help things grow in the town. That's my goal."