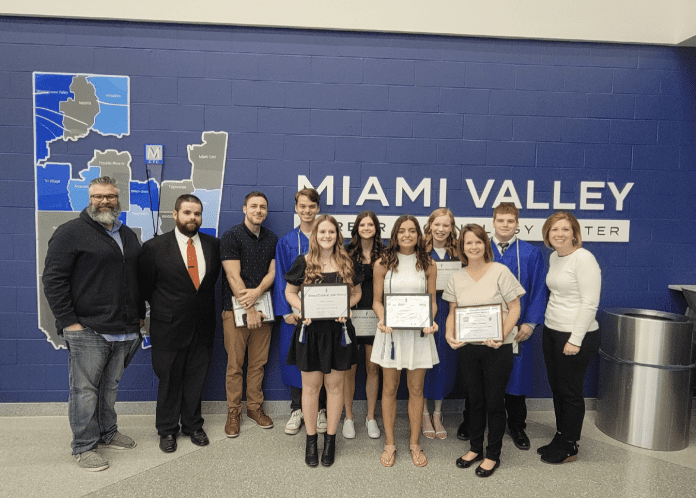 CLAYTON—The MVCTC Chapter of the National Technical Honor Society held its 35th Induction Ceremony, on Sunday afternoon, in the Multi-Activity Center of the Miami Valley Career Technology Center campus.
The requirements for induction into the MVCTC National Technical Honor Society include nomination by teachers, 3.75 GPA by the end of their first semester senior year, no more than four days of absences, and no discipline issues. One hundred and twenty two students and their honored educators were recognized during the program. Six of these students are from Ansonia High School.
The students and their honored educators from Ansonia High School are Ian Brown & Mr. Wright, Denay Geesaman & Mrs. Lochtefeld, Evan Hackler & Adam Hall, Kaylin Johnson & Mr. Noe, Emily Kelly & Mr. Wright and Rebekah Prasuhn & Mrs. Person
As a part of the program, Rebekah Prasuhn had the honor of delivering one of the commentaries and Kaylin Johnson was a part of the candle lighting ceremony highlighting the virtues of the NTHS starting with Knowledge and the seven attributes; Skill, Honesty, Service, Responsibility, Scholarship, Citizenship and Leadership. All 122 of the 2023 inductees will receive a $500 scholarship made possible by the MVCTC Education Foundation.